904-067
June 6, 2003
The suspension on 067 is in a little better condition (cosmetically) than 090 and 068, but just as worn out.
We will replace all parts that fall under original specifications.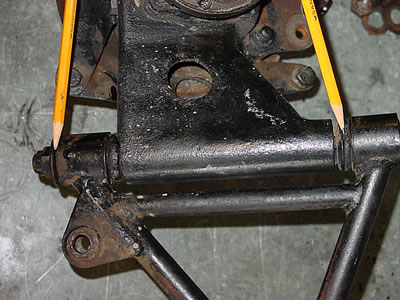 The flanblocks are the rubber on steel bearing inserts that the suspension uses between components. The rubber is very hard in its first life, but after 40 years, it's no good.
In these pictures, the spacer between the flan block has been installed backwards, thus squeezing the bearings till they popped out. This is also not good.
But because we are the experts (if you don't believe me just ask me), we can make this old stuff look and work like new.
The brake shoe is worn out so much that it shows us it was out of adjustment. The driver forgot to let the brake off or used it for the famous brake turn!@#$*
The pounding keeps on going. The control arm on the right has a clearance problem because the bearing that is normally pressed in the arm just fell out.
The pencil points to another track fix. Arm gets cracked, weld it on the car! More signs of tired plastic bearings.
The arrow points to a bent shock which also comes off the right side of the car where the damage was from a crash.
Every suspension spring gets tested for straightness and for spring rate. This tells us how the car was set up. It also tells us if the springs are consistent to each other, both front and rear.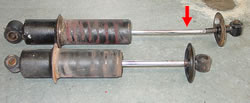 Here is the bent rear shock without the spring. The other shock is the front shock.
These carts are our customers best friends.
<< Previous Update | Next Update >>