904-067
August 29, 2003
Still turning chicken shit into chicken salad.
Everything has to be rebuilt and redone, even places you don't ever see.
These pictures are of the front cavity that contains the steering rack, master cylinder, and fuel pumps.
This area is normally overlooked. In most of the 904s that have been in any kind of an accident, these areas are delaminated and have to be removed and reattached.
While the car is upside down, it's a lot easier to restore these areas.
The picture on the left is black paint over silver. The picture on the right is stripped to raw fiberglass.
These are the PVC brake air inlets in nearly perfect shape (very rare).
The bottom of the car is now painted with the second coat of duratech.
The frontal area is primed and the front cavity is repaired and primed.
The fender wells are completely repaired and sanded for the first coat of black primer.
Primer applied.
The duratech has been block sanded for the second time and two layers of gray urethane primer have been applied.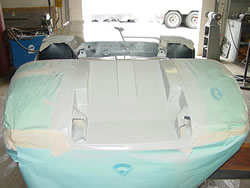 Urethane on the frontal area also.