904-068
January 12, 2007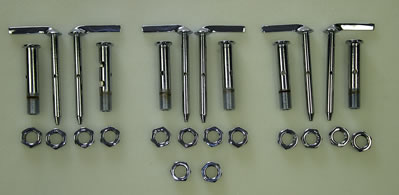 Seems like it's been forever...oh, I guess it has been!
We're doing these two 904's as quick as we can to keep the cars within the budget. Budget...what budget?
These bolt action latches for the tail, just came back from the platers. We had one original one and had to make all the others.
The third set is for 904-119.
Bret and Andy pulled the wires through and will start hooking them up in the near future.
The duct has been installed and the hole for the dash will be cut out later. These are the metal wire straps which will be pop-riveted in the body to hold all the wires in place. We made these and then oxided them black.
These are the brake lines that are used as a pattern. We made new ones and the brake reservoirs are also new.
068 got the racing Bilstein shocks. This car was raced by Peter Gregg and he would have had all the latest trick shit.
Not that Koni's are bad, but Bilsteins were valved different. One front brake disc is ready for installation.
The back suspension has been installed. Remember, we had to make a lot of parts for the control arms.
Here are the brake reservoirs installed. The front suspension is installed, now the brakes will get bolted on.
These are emergency brake hardware. These brackets retain the cable and brake shoes. We had to make a lot of these parts. I never planned on either of these cars having emergency brakes because they never had them. In America, they were removed for racing purposes. Remember, both of these 904's have great pedigrees.
These are the emergency brake expanders. We had to make most of these bits too. Here, Bret is making the cable brackets.
Now Bret is machining all the cable ends. These parts cannot be converted from 356 or 911, they have to be all made by hand.
Luckily, I had one set of each part needed for a 904 braking system, so we were able to copy everything exact.
The parts will be no different than new factory parts.
Here is a close up of the suspension with the new rod ends that we bought from Classic Parts in Germany.
Peter Hofmann is a good friend and a great provider of some of the really difficult parts needed for the 904 suspension.
Here are more parts being bolted to the rear suspension. Ken Allison re-made sway bars for 904's and this is one. Andy makes sure that with the brakes installed, the alloy wheel still fits. Sometimes, the tolerance with the caliper is off and needs a little spacing.
In this case, both cars are o.k.
These are re-machined 356 rear discs, which are the correct part for the 904 rear brakes. Remember, we went through the drill of polishing the front hubs and then giving them a bath of phosphoric acid to tone down the shine. Well, as it is, time is our best friend when it comes to patina...the patina of these hubs now makes them look new not California re-done (remember, I'm from California).
The color of these Bilsteins looks like Koni red (especially in the pictures), but the color is actually many shades different.
We ordered a special rubber-delron compound for the stabilizer bars.
Unless someone out there has re-made them, this is what you have to do.
We've been waiting for this dash to be installed for 6 months. The gentleman that does this for us does a fantastic job, but he's now retired and it has literally taken us 6 months to get him back here to finish the job.
Here's Clark,"the maestro" at work. Andy will install the gauges next.
Some of these jobs are hair-pulling experiences,
but when they're finally done, and your hair grows back, it's kind of fun hooking all this stuff up.
Here, Andy is setting the gauges in. Of course, one slip of the exacto knife and it's...oh shit! In the photo on the right, there is a reflection on the underside of the dash lid. These are not wrinkles. In the past, I have installed factory original vinyl-formed dashes, and they look like shit, but they always look like shit. These dash covers look really great, but they don't look like shit...get it. I was just told that I used the word "shit" too many times, but please remember, we're the guys that "make chicken salad out of chicken shit".
We will now start updating our projects every week, but only one car at a time.