906-001
December 4, 2003
Jack did a fantastic job rebuilding the firewall structure to fit the new oversized roll bar.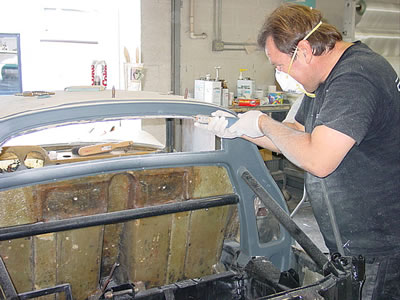 He is now trimming the inside edge for the window.
This firewall structure is undetectably correct.
Andy has been assembling all the new suspension pieces. Notice the yellow can of Kluber. This is the Porsche factory super trick racing grease. We use this on everything that rolls. Today we purchased two new cans and this shit ain't cheap ($200. a liter).
Sweet!
Real sweet!!
<< Previous Update | Next Update >>