906-127
October 29, 2004
Andy is fitting the driver's door. I fit the passenger door and kinda showed him the process for a great fitting door.
Remember, clamps and clekos are our best friends. The idea when building these doors is to keep them as light as you can. A heavy door won't take the abuse from opening and closing a million times.
After these frames are made, sometimes they fit and sometimes they don't. The passenger side fit perfectly without a cut. The drivers door needed two cuts for a perfect fit.
The idea is that when the plexiglass window is fit, it's flush with the outside bodywork around the door. This is sometimes a difficult task.
Now we're putting the under structure on the front cooler cover (hood). Here, Andy has roughed the bottom of the hood so the structure can be glued to it. Before this takes place, the cooler must be fit in the exact location so the hood structure fits it perfectly when installed.
Andy has positioned and is drilling the mounting holes. One of the treats with this car is that it had a NOS oil cooler (new old stock).
The relief valve has a plug on the outside of the cooler. This threaded plug faces down so the body needs a hole drilled so the cooler can fit flush. Here, Andy uses a pencil to get a lead coating on the plug. The arrow points to the lead residue on masking tape where the cooler has been placed for installation. He will then drill a hole where the lead leaves its mark. Job Done!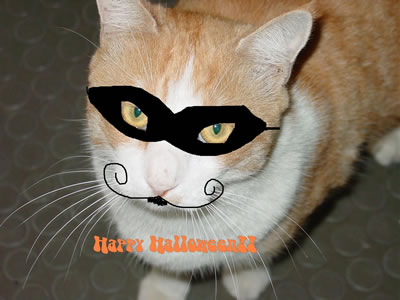 Buster "J" says, "Have a Happy Halloween".