906-127
December 31, 2004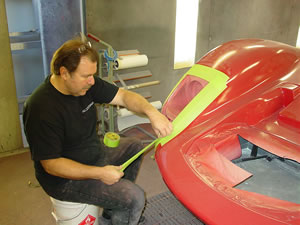 It's always fun when we get to paint something for the last time. Jack is masking off the headlight buckets for the satin black finish.
Check off painting the headlight buckets from the to do list. Now we will mask off the buckets and paint the final primer on the rest of the car.

The second owner of the car, Manfred Pade, recently gave us some photos from his archive.
These are pictures of Manfred taken at various tracks in Europe.
The car looks pretty cool yellow, but we're staying with Sepp's signal red.
This is Manfred working on 127 in his garage. His young kid is rooting him on.
After Manfred crashed the car, it was converted into a spyder. We converted the car back to a coupe.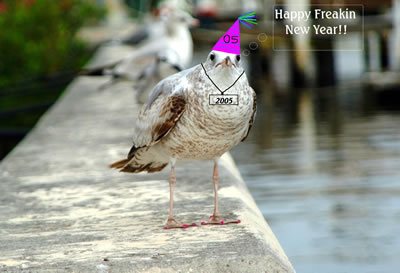 We'll call him Gary the Gull...as you can see, he hopes all of you have a Happy Freakin New Year!