906-127
May 21, 2004
We talked about a fellow named Sepp Greger. This is Sepp at one of the many hill climbs he raced at in 906-127.
I am sure there are people in our web audience who can guess where these photos were taken.
But, who cares...Seppi won the championship in 1966.
These pictures were taken after he sold the car, then it crashed.
Bingo...a spyder!
The car was made into a spyder in Germany and then taken to Hong Kong and raced a little more.
If you look closely at the picture on the left, you can see the shop signs are in oriental writing. The picture on the right is the first page of the Wagenpass. This was re-issued in 1970 when the car was converted to a spyder.
Whenever I would watch old war movies, they always talked about ONS (maybe in just a few movies).
I always thought ONS was some top secret German operation like our CIA. Little did I know that it was the German Department of Transportation, kind of like our DOT.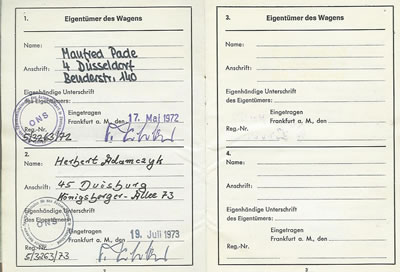 I know this for sure...if you've got a Wagenpass for your old racing Porsche, you've got just about everything. Concluding the preponderance of evidence because remember, a serial number doesn't always tell you everything. Of course, neither does a Wagenpass, but a Wagenpass is a lot harder to forge than a chassis.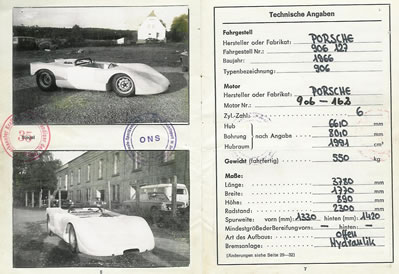 There are those ONS stamps again.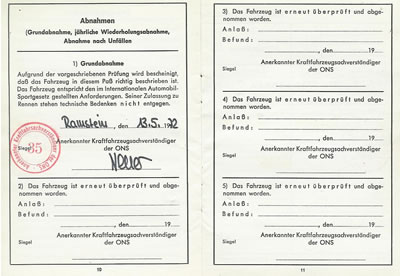 Super way cool !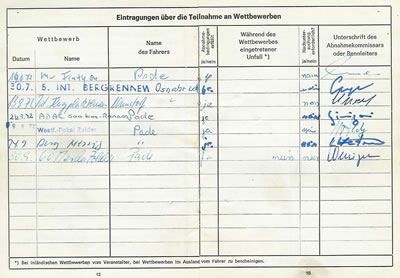 These are signatures from the technical directors at the races that were recorded. Not all race cars had a Wagenpass that stayed with the car this long. I am not sure that you had to have a Wagenpass to race a car. This would be similar to an SCCA log book, but a lot more technical.

On May 22nd I received the following email to clarify "ONS"
Hi Kevin
In the updates on the 906 you mentioned the ONS. Don't want to sound like a know-all, but: The ONS was the "Oberste Nationale Sportkommission" which was not the German Department of Transportation but a kind of bureau governing all things to do with Motor Racing in Germany, and only Motor Racing. The ONS-Wagenpass was actually something like a registration Document for a race car.The words you heard in some World War II flicks were probably "OHK" which means "Oberstes Heeres Kommando", Central Command of the Forces. Still, you might argue that after the war some top OHK-Nazis were working again, but in the ONS-Councils.... ;) Keep the updates coming
Regards,
Marius, Hamburg

Thanks for helping us out Marius!
On May 25th, we received another e-mail regarding the historical photos of 127
Dear Mr. Jeannette,
I am very grateful that you have showed us the historical pictures of 906127. I knew for a long time, that Manfred Pade had converted the car into a spyder after a prevous crash, but never had seen any pictures of her. Now my comments:
- the black & white shots (race no 52 only) show Sepp Greger at the Mont Ventoux hillclimb in France 1967(European Hillclimb Championship), he finished 2nd in class.
- the shots of the yellow 906 show Manfred Pade (3rd owner) in 1971 at the Osnabrück hillclimb in Germany, he finished 4th in class.
- the shots of the spyder with race no 29 show again Manfred Pade at the airport race at Mainz-Finthen in 1972, he finished 7th in class.
Kind regards,
Ulrich E. Trispel
Thank you Ulrich!
Here is some history on the car:
Well, here we go! I have now traced back the full history of the car and it looks pretty clear-cut.
Sepp Greger sold it to Pade Manfred, a gentleman from Dusseldorf, who raced it for a few years in Europe (his name appears in the Wagen-Pass). Manfred was the one who had the car modified to a Spyder after he crashed at Nurburgring circa 1971 (?). The work was completed by an outfit in Ramstein, Germany. Manfred then sold the car to Herb Adamczyk through a reputed Porsche tuner named Herwig Roitmayer (Roitmayer' son currently races in the Porsche Cup), who was a friend of Adamczyk. Adamczyk exported the car to Hong Kong where he has been living since 1965, and he was the guy Bob Garretson eventually bought it from.
I spoke to Adamczyk in Hong Kong at length. Adamczyk originally drove a 906 Spyder conversion for Teddy Yip, a Macao casino magnet who was very well-known in the racing world there (as I am sure you know), because he brought in many great racers through his "Theodore Racing Team" over the years (Patrese, Jones, Tambay, even Senna to name a few). Adamczyk was very successful with that first Spyder, winning the GT class at Macao, which is why he eventually decided to get his own 906. Adamczyk then raced 127 with Jim Sweeney at Macao for about two years. As it happened according to Adamczyk, that first Spyder he had driven for Teddy Yip turned out to be the original factory prototype of the 906, really a 904/6. When Teddy Yip's partner, Henry Lee, retired and moved to England, he took that car with him, eventually selling it to Bob Hamilton. The car went to Australia, then Kuala Lumpur Singapore, and has now been sold back in England (no doubt you know about that car too).
More amazingly, I also found Pade Manfred and spoke to him on the telephone today through his son, who was translating all my questions as the father does not speak any English. Very nice people. I then Emailed the son with about a hundred more questions and he replied that he will go over everything with his dad this weekend and get back to me shortly. Manfred has apparently kept a good file on the car, which will no doubt be very useful to us. He still even has the original steering wheel hanging at home!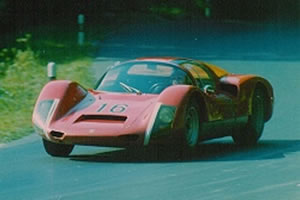 Another historic photo

<<< Previous Update | Next Update >>