906-127
July 9, 2004
I've been making fiberglass parts all week.
Here, I'm making the front inner fender and waxing the cooler cover mold.
The picture on the left is the trimmed part still in the mold. The other, is the part removed from the mold. Earlier I made the inner structure, which I will laminate to the hood while it sits on the car.
The easiest way to remove a part from the mold is a blast of air.
The part normally just pulls right off. Here is the stack of parts which include: door skins, inner fenders, and the front hood.
The placement of the main body always takes two or three men to carry it and place it on the chassis. That's the easy part. It will take me days to fit the nose and more to attach it because of all the necessary parts and panels that get glued together.
So far, so good.
The boys are peeling the PVA mold release from the duratech surface. This product is water soluble, but it's easier just to pull it off like sunburned skin.
Today I've begun fitting the door sills and the inner front wheel wells. By the end of the weekend, I should be gluing the cockpit panels to the chassis. Next week we'll concentrate on attaching the body to the chassis.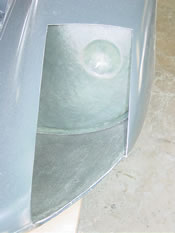 The headlight buckets get glued in before the fender panels. It's impossible to do this process in reverse. Next week I will start repairing the firewall, which is the one mold I've never had. I will use my original firewall as a plug to make the mold and then I'll make the part. This part needs to be attached before the body gets glued on. Lots of steps to finish the glasswork, but lots of fun doing it.