906-127
August 25, 2004
The fitting continues. All of these panels have to be fit within the nose, before the nose and the parts can be laminated together.
Clecos are our best friend because they keep the panels in a fixed position.
We don't want to get resin on the chassis tubes during the fitting of the nose and inner panels, so we cover them with tape.
The new material is applied where the tail meets the nose on the underside. This has to be done before the brake ducts can be installed.
Everything is ready for laminating the mat straps except sanding or roughing up the surface where the glass application will take place.
More pictures of all the panels.
This is the inside shot of the firewall at the pedal assembly.
The purpose of the ink marker is to map where we will grind the surface for a better bond when the panels are all being glued together. When this thing comes apart, it is hard to remember every seam that is going to get a layer of mat!
I even write notes for cabosil only or a mat patch.
The headlight buckets are fit and ready to be installed.
The hood cover is now fit. We will glue the inner structure, which was made a month ago, to the cover as it is installed because this keeps the cover in a perfect fit application. If the structure is glued to the cover on the bench, it might have the wrong curvature. This is why this process is done all at once.
These are the new tail hinges. We will mount the tail so we can position where the firewall apron will be glued to the firewall.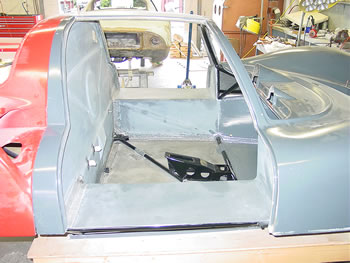 This picture shows all the panels in sync. The door opening is normally off in measurement from side to side. This is a Porsche thing. The tolerance between a body fit on a prototype could be as much as 6mm, plus or minus. All you owners and restorers don't need to feel bad if your measurements are off a little from side to side because this is normal.