906-151
November 21, 2003
Yipes, stripes!
Andy and Jack have been elected to mask off the stripe. The white stripe was original when the car was red. When Pitty Block received the car from Porsche, it was red with a white stripe.
Tom chose this paint scheme because he likes the color combination.
The width of the stripe was measured from the original stripe that was still on the car under layers of paint. If you go back to previous updates, you'll see as I grind through the paint layers, where the original stripe was.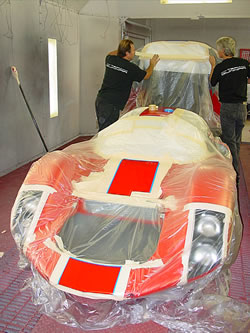 I will paint the stripe around 12pm tomorrow (warmest temperature of the day).
<<< Previous Update | Next Update >>>