Interscope Racing 935
May 31, 2003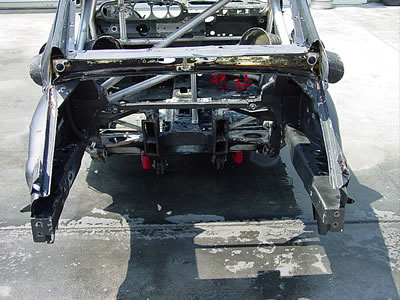 Well it's now saturday and Martin is working on the compressor. I just got done with 3 1/2 hours of pressure cleaning the tub.
The reason I spent so much time is because Kremer didn't do much sanding before they painted the cockpit, engine bay, and front trunk satin black.
If the pressure cleaner can remove the paint, it is much easier than sandblasting.
Any of the white areas you see are where Kremer welded brackets or strengthing panels. The arrow points to one of many ink marker circles, which you can see came to after the paint was blown off. These circles are where Kremer was going to make lightening holes, but never did. There are circles drawn on both sides of the seat mount. There are many holes in other panels. I guess they must have changed their mind about these.
The arrow in the left picture points to the oil lines that come from the engine through the rocker area of the tub. These were steam cleaned and will be capped off so no foreign objects enter before reassembly.
These are the holes drawn on the other side?@#*!
Everything in the cockpit will be satin black except for the roll cage.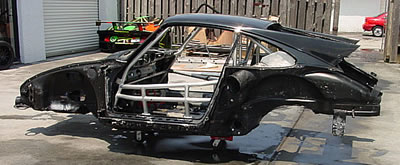 The tub is in the hot sun drying and will get pushed into the body shop (to get in line). We will be assembling two K3's and one Joest 935.