Interscope Racing 935
August 29, 2003
More fabrication to make all the original parts fit perfectly.
Pit pins are the important link between bodywork and the chassis.
At one point, all of these fit perfectly. Crash the car a few times and they'll never be the same.
Mark has made all the bodywork fit. The pit pins and their mounts are now adjusted to fit perfectly.
All the hard mounts were bent and discombobulated and now they have all been re made and again, fit perfectly.
Perfectly, is a big word, we use it often.
This space available.
Inquire within.
All of the fender mounts (Dzues buttons) have been repaired.
When a car is crashed, these mounting holes are the first to get stretched.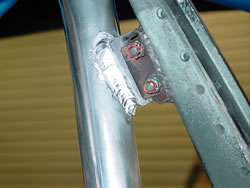 Just finishing little cracks on the roll bar mounts