Interscope Racing 935
September 23, 2003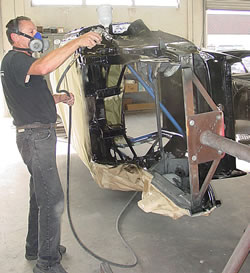 Final coat, semi-flat black.
The rear bar needs to be disassembled and rebuilt.
The hardware has been plated and the parts will be black tonight.
More aluminum tubes, including the engine mount, go out for polish.
The front bar is disassembled. The dashpod is being stripped for paint.
Final paint has been applied.
The paper has been removed from the tub and into the assembly shop it will go.
<<< Previous Update | Next Update >>>