Interscope Racing 935
October 13, 2003
The oil cap wasn't in very good shape and it's too rare to find a replacement,
so we disassembled the cap to restore the pieces, and then back together.
Most 935s suffer the dreaded spider cracks inside the fenders. This can destroy a paint job in about two laps, so I have decided to put a barrier layer between the tire and the surface of the fender.
First, I lay out one thin mat, then foam bonding pad (which is cut to fit),
then one layer of 10oz. S-weave.
The final layer is done with black pigment in the resin, which will show less tire damage from chips.
A little body work on the front hood and a second coat of primer on the fenders and hood.
I block sanded the parts with 320.
Final paint. Geez, I'm a great painter! Oh yea, if you don't believe me, just ask me.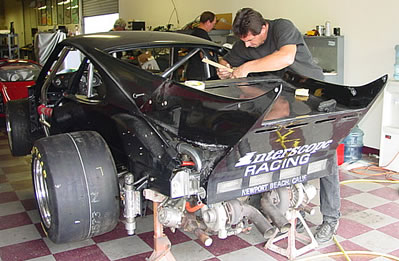 Mark is doing the final adjustment on the tail before I start the bodywork tomorrow.
<<< Previous Update | Next Update >>>