RATT RSR
September 22, 2003
Brake lines are installed.
Figure with the engine weight, the car will drop 3/4 to 1 inch, so I want to space the new fender
three inches, which gives us two inches plus of rear suspension travel (plenty).
Here, I chop up the original fender and space it outward and upward to get tire clearance.
The fender is held up with my infamous tape balls. A little crude, but really quick.
After the tape is removed, the part awaits the inside flange (this connects it to the fender).
The top flange has now been made and I will make the rest tonight or tomorrow morning.
Andy is establishing bump-steer.
The bump is very important on these cars and when they are as low as this one, bump-steer is everything. For those of you who don't know what bump-steer is, because of the travel of the suspension (up & down), the steering link gets longer and shorter, thus making the car steer by itself when it hits a bump. This can be corrected by spacing the steering link at the pitman arm.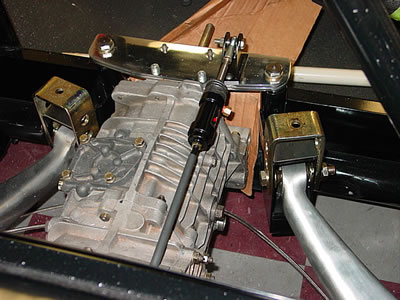 Martin has just installed the slave cylinder for the clutch. Originally, the RSR and 935s had cables. They were very hard to push. With a hydraulic clutch slave, no problem.
<< Previous Update | Next Update >>