RATT RSR
November 14, 2003

The RATT gets its wiring harness installed. Of course, it's special too because it doesn't need as many accessory wires as a street car. We remove them to save weight.
The white paper is actually a diagram (you just can't see the writing).
Martin is adjusting the engine mount for the final fit of the deck lid. The first coat of guards red has been applied to the doors. We won't paint the final coat until after the window frames and windows are installed.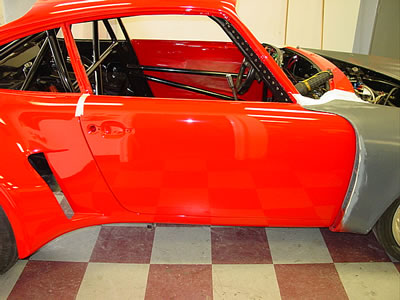 Remember, the doors are fiberglass, so the fitting of the window frame might not be perfect.
We will final fit them after the doors are installed.
<<< Previous Update | Next Update >>>