Gunnar Racing G-99
November 18, 2002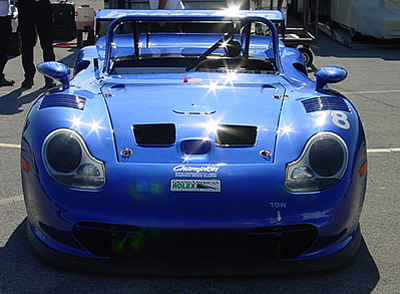 This car was built from a Jig we fabricated using the Champion GT-1. Champion was using our facility for a few years while their new racing facility was being built. When Champion chose not to use the G-99 (they purchased the Lola instead) the car just sat until 12 months ago when we decided to finish it because of the rules in Grand-Am, which allowed the car to run as a spyder. At the Grand-Am Finale they changed their minds about the spyder, but said it could run as a coupe in 2003.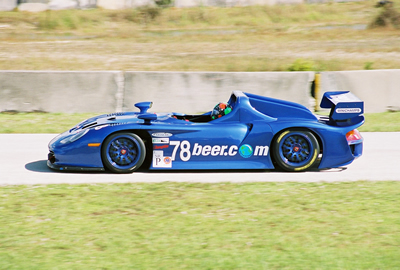 The pictures you are looking at are the G-99 at Moroso in its first test. Gunnar finally got to drive the car that was built for him!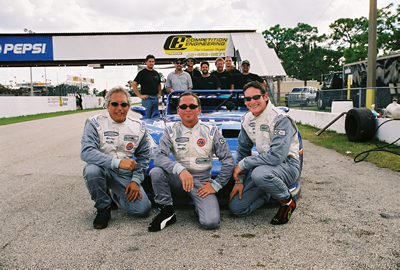 The drivers and the team: on the left is Mark Minkin, Stephen Bartkiw, and Gunnar Jeannette. Notice how the car and crew were all geared up for the Finale, with new driver suits and sponsors on the car!
Mark is at speed exiting turn 9.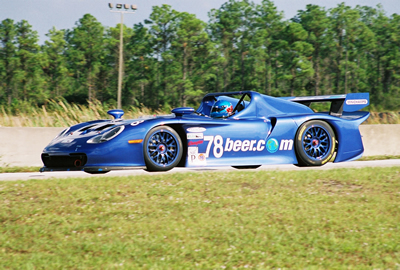 Stephen is between 4 and 5.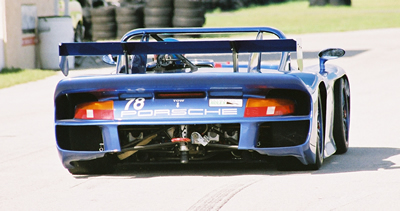 This might be the last time you see the car as a spyder, SAD BUT TRUE!!!!