†††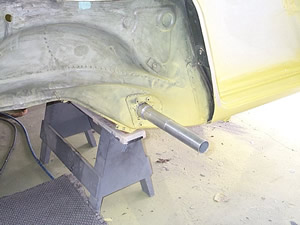 †††††
Here we are installing the rear quarter panels and the 73 rsr steel flares. The picture describes centering the fender to the wheel center. The easiest way to do this is to make a tool to go in the existing torsion bar opening, so that the opening in the fender and the torsion bar are one and the same.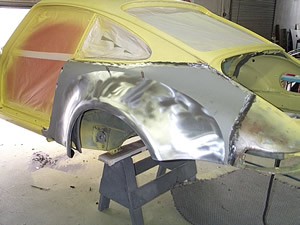 ††††††††††† Here, you can see where the holes in the quarter panel and the flare will now all line up with the aluminium fixture that has been removed and is now on the other side.†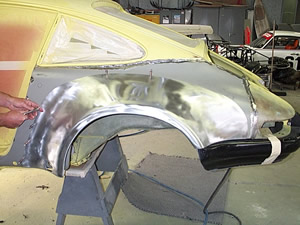 ††††††††††† The quarter panel is being held to the existing material on the fender with special fastners (cleco clamps) these were developed by the military prior to WWII.† When the fender is in the proper position, itís butt welded to the existing material, then the clamps are removed and the welds are metal finished, followed by body work and paint.
In this picture you can also see the bumper being fitted to ensure that everything lines up prior to welding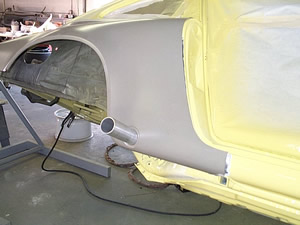 ††††††††††† The tube sticking out of the quarter panel is the index for the torsion bar.† Many people have gotten carried away with getting the fenders to fit right and when itís time to put the torsion bar in it wonít fit.† We take care of this before by sticking the tube in so no mistakes can be made.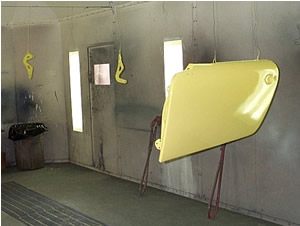 ††††††††††† The first coat of primer has been applied to most of the body pieces as well.