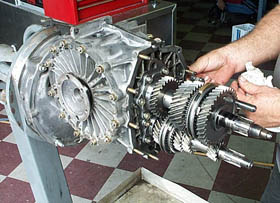 Gearbox being reassembled after full teardown, clean and inspect.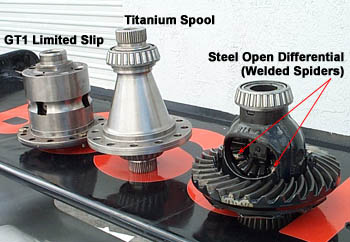 This picture shows three different types of racing rear ends. Steel Open Differential (right) is a street-type part, but to eliminate slip the internal spiders have been welded together(arrows). This is (as Kevin says) the "cheapo"-style limited-slip differential. Though accomplishing the same thing as the titanium spool dif (middle), it weighs maybe five or six times more. The titanium spool is used in 935/962 applications. The third type pictured (left) is the GT1 limited slip, which has an internal ratchet mechanism. This offers positraction in different power applications (adjustable).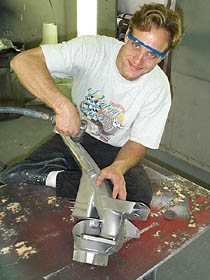 Rear control arm (along with all the rest of the suspension bits) has been bead blasted, and here is being touched-up by hand prior to painting.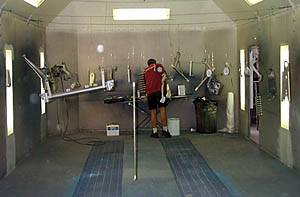 A few dozen suspension, interior, and miscellaneous parts are hung from wires in the spray booth and sprayed black all at the same time.