910-023
October 10, 2003
We sold 910-023. Vive la France!
As you can see, 023 had the 771 2.2 L 8 cylinder engine.
We are going to replace it with a 2.0 L injected 6 cylinder 910 engine.
All the model guys want detailed photos, so feast your eyes.
The picture on the left is the side pod that contained the fuel tank (cell). It had cracks in it, so we are replacing it and will install a second tank so the car can carry a full load of fuel.
The car will be run in Europe in the tour type races (fuel is important).
We will be making subtle changes and will post them on the site.
This is a way cool engine.
The fuel can is out and a new fuel cell has been installed.
We are waiting for the second fuel cell to be made and shipped.
The tank is now in the car and we will soon start the other items on our list of completion.
More detailed shots
Andy and Jack are adjusting the tank so the side pod cover can be installed.
The fuel cell is installed in a way that the outside still look original. Remember, 910s never had
fuel cells, just aluminum tanks (brave souls drove these cars).
Cover installed.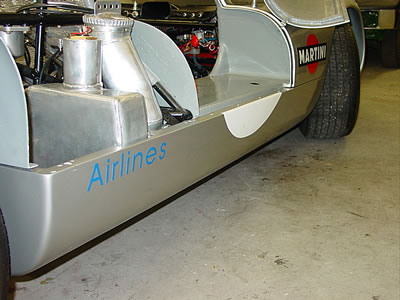 We will now wait for more pieces to show up and in the next couple of weeks,
we will be preparing the engine for installation.