Did You Know?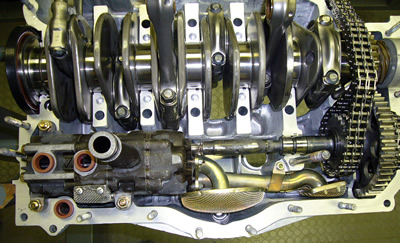 Of course the pump is bigger anyway, but count the pickups. One at the back, one in the middle, and one at the front. Why do you think it has all of these oil pickups?
Okay, do you give??
It's because of the G's the car pulls going in one direction. Porsche was worried the oil would end up on one side of the engine block. Remember, these are dry sump engines.... Meaning, let's get all of the oil out (oil-windage). Porsche engineers thought more rows of gears to suck and push oil was a good thing. Other than the price of this pump it's the best oil pump made by Porsche for the opposed 6 cylinder engines.
Now you know how it got the term "Indy Pump". The design and application for the 962 works perfectly, in fact it works better in a 962. You say to yourself, "A 962 is turning left and right.", yeah that all makes sense, but the jest of it is, the 962 engine is placed in the chassis (Monocoque) on about a 6-degree angle. Thus, the front of the engine is lower than the back of the engine. Now you can see why that front pickup means a lot!
Okay Mr. Knowsitalls, why is the engine and drive train on a 6-degree angle?
Okay, do you give??
The reason is that Porsche needed to get everything from the back of the drive train (gearbox) forward, for more clearance for the ground effects (diffuser / tunnels). At the base of the front of the engine is where the tunnels start and of course they get big by the back of the gearbox. The higher the engine and gearbox the more room for bigger, more effective tunnels.
Betcha didn't know that!