Blast From My Past
October 28, 2010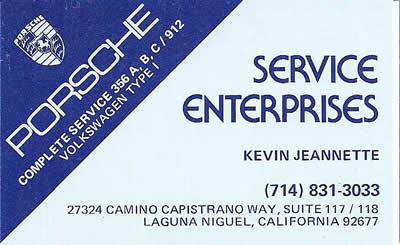 My first official Porsche shop circa 1974.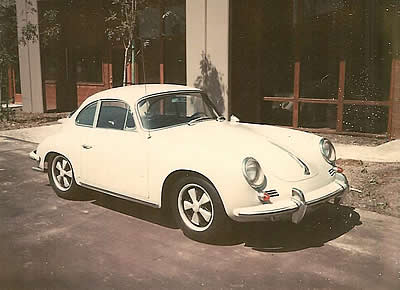 Bought my first Porsche from my older sister, Michelle for $3400. Sorry for the alloy wheels, but in the 70s it was actually pretty cool. This car was completely original, numbers matching and the paint.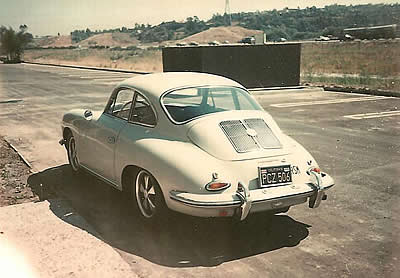 You can see it's a C model with a Bursch exhaust. A sound like no other. My sister got cancer and actually died on Oct 20, 2010. Bless her wonderful soul.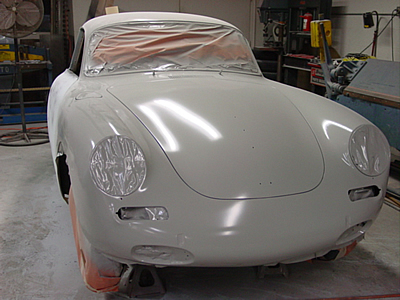 This car is a clone to Michelle's car. I bought it in San Francisco in 2000. It's originally dolphin gray and has never been in an accident, but did have a 3x3 inch hole under the battery. I decided to repaint the car, do a quickly rebuild on the engine, and send it back to California so my sister and I could enjoy it any time we felt like the old Mulhulland Dr. trick.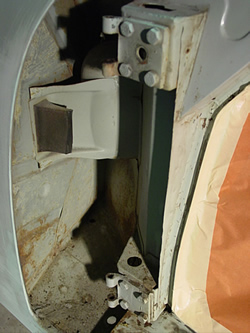 Problem was, it's very hard for us to semi-restore a car. I did do the hood and deck lid and the door jams inside and out. I was going to leave the bottom alone and not even touch the transmission other than a re-seal.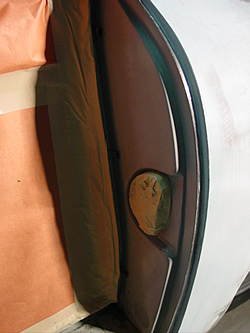 I stripped everything so I at least had a good base.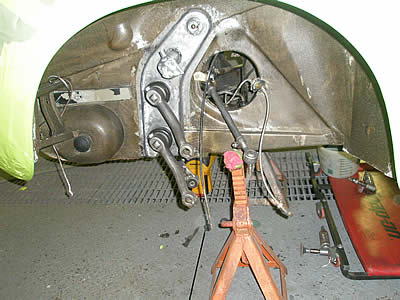 Actually had the car completely by 2001 then I parked it. I got too busy doing other stuff (customer cars) and it's hard to do the non-paying jobs.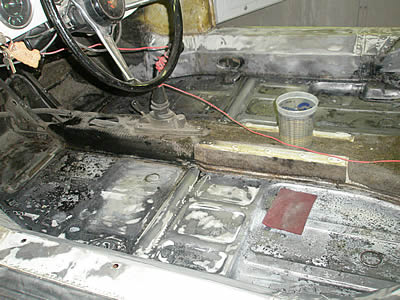 Of course some 10 years later, the cancer that was taking my sister's life became more aggressive. I forgot all about the 356 and thought maybe we could do a "gang bang" and get the car ready to send to California. Then maybe I could take my sister for one last ride up the hill.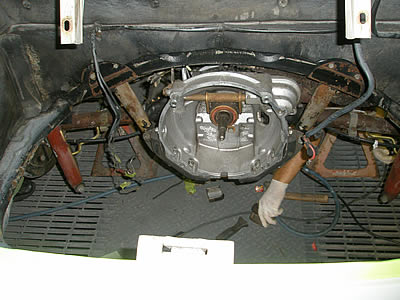 Of course we had to do it as if it were a complete restoration. The car was good enough not to put in a rotisserie.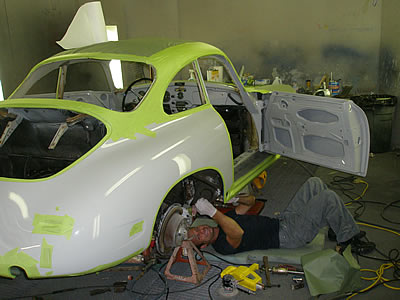 So, 5 of the Gunnar guys did the bottom and the front and rear trunks. Here's Bill smiling for the picture, but you know he wasn't loving what he had to do.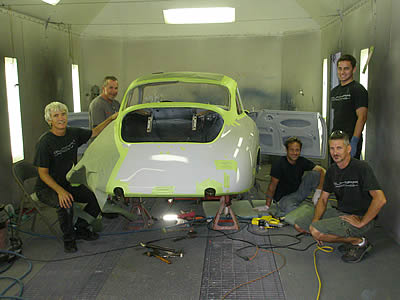 Everybody came to the dance cause they knew Michelle was sick. Michelle did make 2 appearances at Long Beach and Monterey while we raced in the ALMS this year. This I cherished.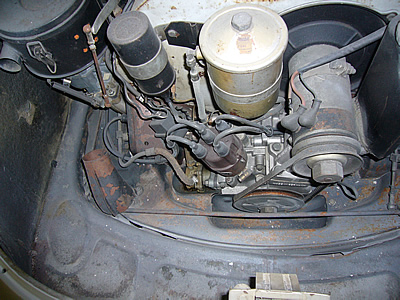 Motor ran pretty good, but had to be completely re-done.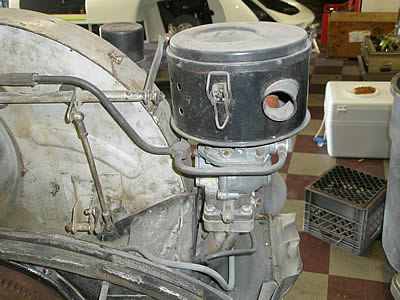 Everything had to be rebuilt, re-planted, and repainted.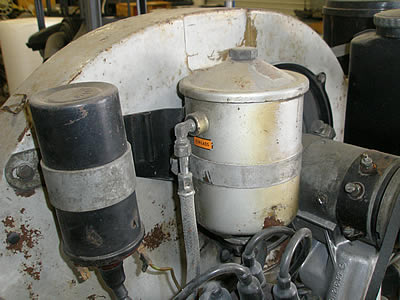 Note the small einlass sticker. Most C's have the bigger one. What's up with this? It has a small filter insignia on the lid.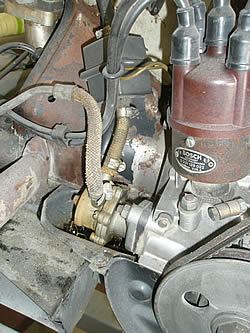 Most everything was original, of course the filter is not.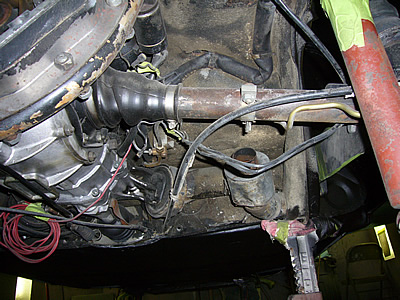 Rebuilt the transmission completely and every surrounding component.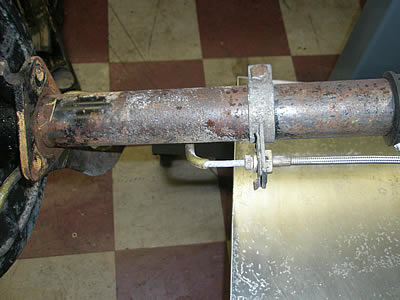 Everything worked fine, just didn't look too good.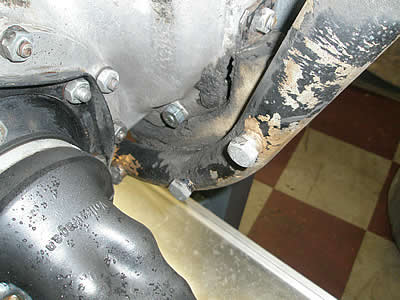 Installed new motor mounts.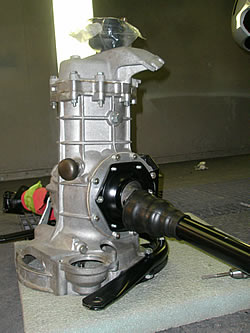 Bingo! Ready to install.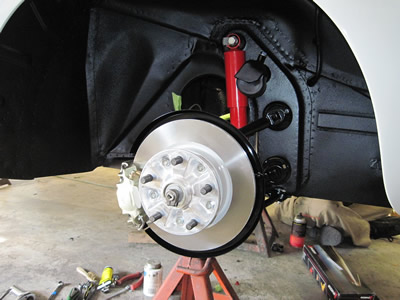 Did everything in the front, including the link and king pins.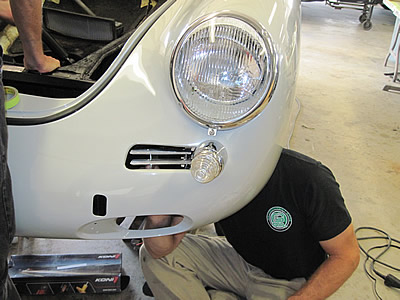 Here's Bill installing the rebuilt horns.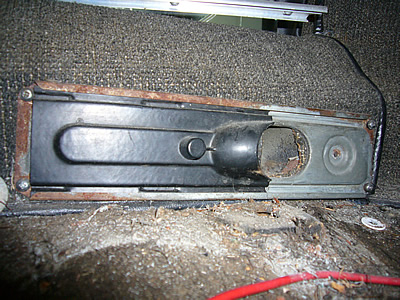 The car actually came with a green leather interior, which was dyed black. The carpet was replaced with charcoal color. They left the original carpet underneath the edging at the doorsill and the carpet was also green. Tony at Autobahn Interiors re-did the interior in record time because he was also on the program to get the car done in a hurry. Problem was, while my sister was dying and Tony was helping us finish the C, Tony's father passed away. There must be some irony in that!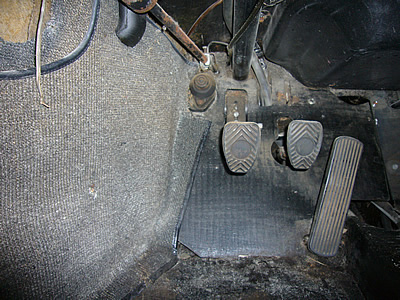 Everything needed to be re-done.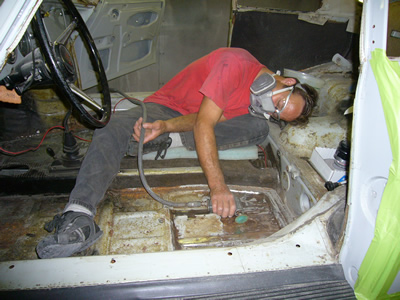 Bill's preparing the floor for paint ...actually the Zzzzz we hear is not the grinder, but Bill snoring.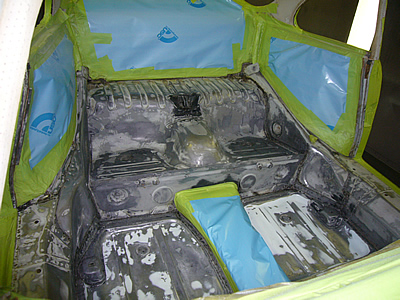 Getting ready for primer after a little dent work.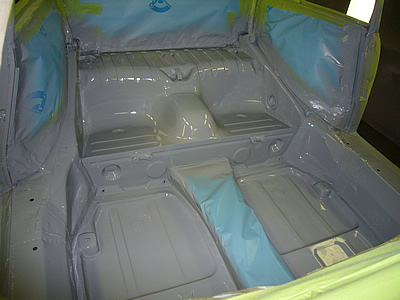 Bingo!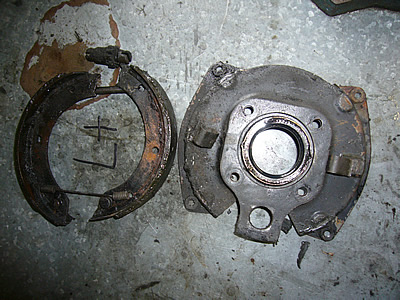 Backing plates, leaky seals, ugliness.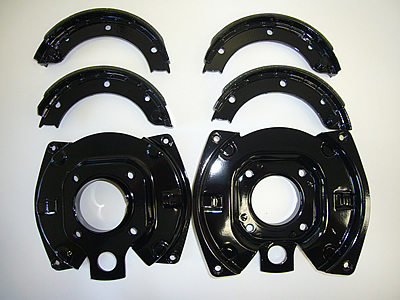 Sweet!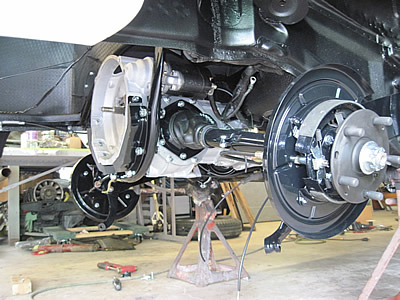 Real sweet!
Really sweet!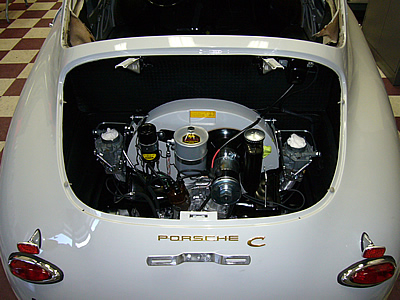 Totally sweet!
Almost sweet!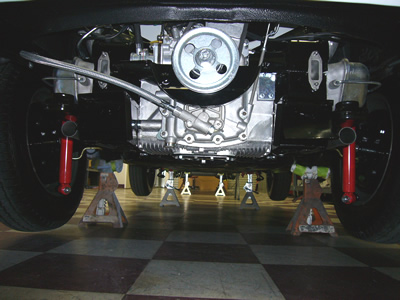 Thank you Paul at Stoddard, Brad and Richard at NLA, and Dennis at Zim's. They supplied all the mechanical parts that were needed during this restoration.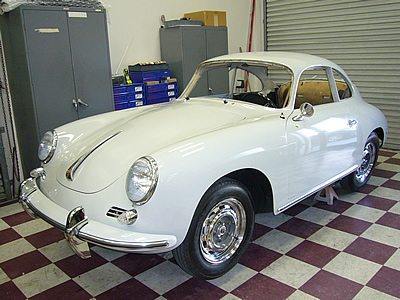 Not quite done. Our interior guy will install Tony's beautiful green leather interior in the next few days.