"Mexi-Kidd"
(Semi)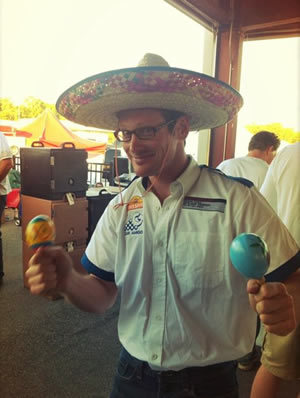 Most don't know the legend of the "Mexi-Kidd"... At 2 years old Gunnar asked his Papa if he could drive a car just like Pedro. Papa thought to himself, "Would he already know who Pedro Rodriguez was? Nah, no way!". Then at 10 he discovered (light brown and green eyes and all) that he might have some Mexican in him. Hmmm... What's up with that? So he asked his Papa, "Hey Pop, do I have some Mexican in me?". I figured it was time enough to tell him that his Mother was Swedish and Irish, with a touch of Hillbilly! Then I had to tell him the truth, that my Father was born of a Mexican Mother and a European/Latin mix (French, Spanish) Father. I told him that my older brothers and sisters actually spoke some Spanish because my Father wanted all the kids to speak Espanol. He figured it would be better for all of us to be bilingual.
As it ends up, my Grandmother was born in Chihuahua, Mexico and my good friend and "Cuzin" Juan Gonzalez Moreno (head cheese at Mission Foods and originator of Mission Foods Porsche GT3 Cup Trophy Series) was also born in Chihuahua.... This is why we're "Cuzins" of different mothers.
Gunnar, (Mexi-Kidd) is 3rd generation Mexican-American.
So for Gunnar to win the Pro division at this inaugural Mission Foods Cup race was pretty special to a 2nd generation Mexican Papa.
For those who don't know, Juan Gonzalez has a major collection of Racing Porsche's including two RS Spyders. Juan's got more taste than the tortillas he makes... Which incidentally, his family business might be the largest maker of tortillas or wraps in the world.
Viva La Mexico!