Hurricane Frances
September 13, 2004
Palm Beach County was hit by Hurricane Frances on September 3rd through the 5th. This hurricane set a record on how long a hurricane can sit in one area and reek destruction with its constant, never-ending, powerful winds. Kevin and Sharon stayed at the shop during this ordeal to protect all of their customer's cars. All photos were taken when the winds were at their minimum because we couldn't go outside while they were gusting up to 100 mph. The above photos show one of our trees as it gradually gave way to the winds.
Going, going....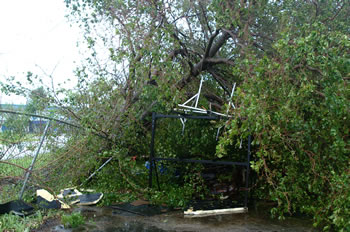 Gone!
We parked our trailers in front of our doors to protect the shops.
Kevin is pointing to our neighbor's building that lost its rear door. You can see it flapping in the wind. Please notice the photo on the right. See the orange hoist in the background?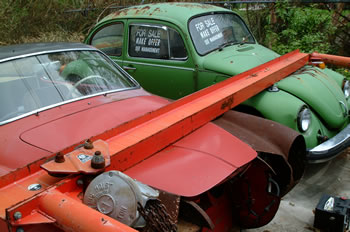 Look where it is now...ouch!! Luckily, these were the only two cars that got damaged during the storm.
We awoke early Sunday morning to discover that the 2" high density foam insulation and fiberglass membrane on our museum building blew off. We started gathering buckets to catch the rainfall and began moving and covering cars to keep them safe.
The photo on the right shows part of the roof that blew off of the body shop. Again, we got to start saving stuff by moving fiberglass, body pieces, etc.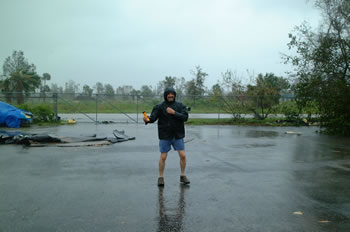 Here is Kevin braving the storm.
These photos show more tree damage.
More roofing sections.
The photo on the left was taken of the body shop ceiling and the photo on the right is of the museum ceiling as the drips started to take out the ceiling tiles.
They kept dropping one by one.
After the stores opened and we were able to buy plastic, we covered all the cars that will stay in the museum. The other cars were picked up by customers or moved into our trailer.
Here is what the museum looks like today. Kevin couldn't wait to use his chainsaw!
We have cleaned up all of the debris and are now waiting for the insurance agent to come and take a look so we can get on with the repairs. Everyone is back at work now. We have had enough of hurricanes for about 20 more years.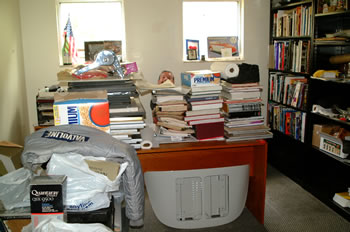 Kevin says, "Do I have to move this shit one more time?"