Moroso Fun Day
August 17, 2004
This purpose of this fun day was to film the "maybe in the future" reality television show called "Palm Beach Racers". We've been asked by a Burbank-Hollywood Production Company to participate in a Reality TV program based on the complete family operation of Gunnar Porsche Racing. This series will feature the trials and tribulations of our son, Gunnar, and of course, the everyday happenings at Gunnar Racing, including racing events. The film crew has already shot two days on the current projects we are now involved in. We will find out by the end of September if the show is a GO.
The cameras started rolling last Sunday at the shop and finished up at Moroso on Tuesday, August 17th. Some of our customers just happened to be in town for the shoot. Driving the above cars were Marc Brune (G99), Wayne Jackson (Lowenbrau 962), and Gunnar (in our Grand Am GT3-R).
A dead battery makes for great TV drama and 5 fat asses.
Here is Gunnar giving Lance Willsey a little track training. Gunnar is not only an ALMS Panoz GT driver this season, he is also an instructor for the Panoz Driving School in his spare time. Gunnar also drives our GT3-R in Grand Am races whenever we get a chance to run. This was Lance's first time in a GT3-R but he is no stranger to racing Porsches. He owns the red '97 RSR shown in the photo below.
Here, Lance is driving his RSR and Gunnar is giving Mako Squadron F-14 fighter pilot, John Poor, a ride in "Sally".
Kevin is chatting with Wayne, Gunnar is taking a break, and Jesea is getting filmed watching the drivers zoom down the straight.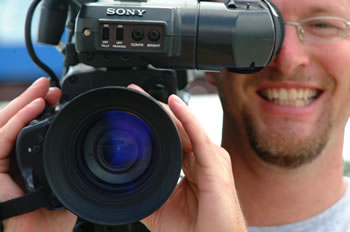 Say Cheese!
Hopefully we'll be doing a lot more of this in the near future. Stay tuned!