The Daytona Heritage Exhibition
January 23, 2006
Wayne Jackson took our G99 and his Lowenbrau 962 to the Daytona Heritage Exhibition this year.
Gunnar drove the G99 and Wayne drove his 962.
The weather was perfect and we were happy to be in the small show and more happy not to be in the big show.
Andy and Henry hard at work!
Both of these cars raced at Daytona in previous years. The Lowenbrau car won two races and the G99, in the "caution livery", scored second place at the '03 Paul Revere with Kyle Petty, Peter Baron and Shane Lewis.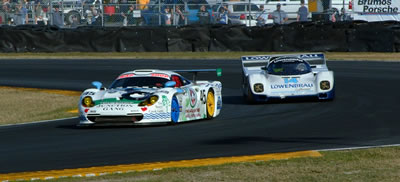 Gunnar and Wayne had a blast playing with each other... (on the track).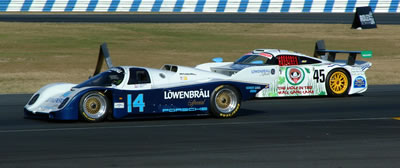 Of course, the Lowenbrau car would easily pound the normally aspirated G99.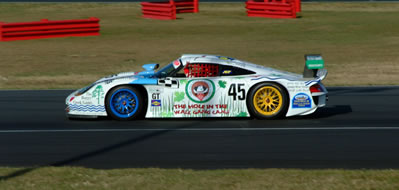 In this livery, the G99 finished second in class at the 2003 Watkins Glen race with Paul Newman, Kyle Petty, and Gunnar. This paint scheme honors Newman's extreme generosity to all the "Hole in the Wall Gang Camps".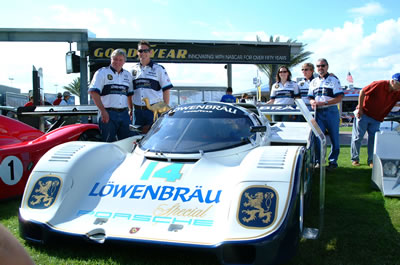 In this shot, please note the camel trophy in front of Wayne and Gunnar.
Wayne just purchased this 1985 Camel GT Champion Trophy, won by Al Holbert.
Quite a find!