Hurricane Wilma
and the Porsche Inspector General
October 24, 2005 / November 2, 2005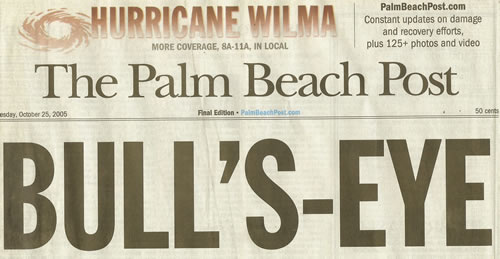 We persevered another direct hit!


This hurricane left us in bigger destruction than Jeanne or Frances did last year.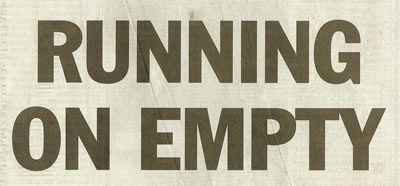 We finally got power last Sunday.
Because of our involvement with great customers that let us restore their great racing Porsches, we decided to comfort our friends and customers with a visit by the Porsche Inspector General. Here he is checking out Mark Minkin's RS Carrera, J.G.'s 906, and Dan Westphal's pre-A Speedster. This building lost the center part of it's roof and the inspector was checking to see if any of the race cars got wet. Luckily, we were tarped and there was no damage.
Here, the inspector is in the body shop and gives an O.K. to Lance Willsey's 910 and 997 Cup car!!
Half of the roof blew off the body shop and it leaked, but not on any cars. The door behind Lee Giannone's RS touring car blew in at the base, but didn't fall off the wall. Glad to say, Lee's RS is just waiting for final paint. The Inspector saw a little more damage in the fab shop where the ceiling came in but missed the Swap Shop 935 K3 and Mike Sapena's Fitzpatrick K3.
| | |
| --- | --- |
| | |
The Inspector General made it to Skunk Works, which is the unit on the end of the museum! Last year, the museum lost it's lid and was re-roofed earlier this year. It had no damage at all. Luckily, Mike Robottom and Tom Stegman's 904's are in perfect shape. During the power outages and in-between hurricane clean-up, Andy and crew were able to work on assembling these cars because the three doors could open and there was enough light. The other shops were all pretty dark until we got power. For some reason, the inspector really got teary eyed looking at Wayne Jackson's Lowenbrau 962. Luckily, this car stayed high and dry.
"Well dear boy", the inspector said to me, "all the cars look like they weathered Wilma with no problems. It looks as if you have two new roofs (which are being installed today) that will dry-in Gunnar Racing until at least next year."
The Porsche Inspector General did see some water damage in the unit room but I have taken care of that.
The damage was only to my engines and not my customers.
Did I tell you that Derek Bell came by the shop to assist me building Wayne Jackson's Lowenbrau 962 engine?
Here I am guiding Derek while he installs the #1 piston.
Derek came with some European friends. From right to left...Ottokar Jacobs, who is an avid Porsche race car collector and owns a 917, 908, 910, 904 and many Carreras; me, Derek Bell, Werner (Ottokar's webmaster), and Al (Justin Bell's father-in-law). In the picture on the right is Bridgett (Ottokar's wife), Derek again, and Tina (Werner's wife). We had a great time during their visit.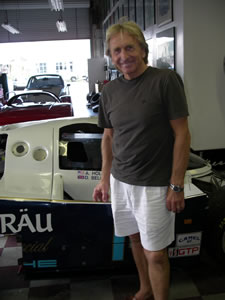 Did we tell you that the Porsche Inspector General is really Derek Bell??? He teared up when he saw Al and his HR-1 962 apart for an engine fresh in-up. Derek never actually got to work on this car, but today he was honored to give me a hand with something that gave him so much power to win all the races that he and Al ran in this car.