"The Good Old Days"
Pictures of the life and times at Gunnar Racing from the 1970's, 80's, and 90's.
Photograph 2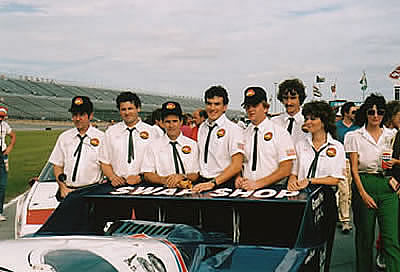 Dream Team 1986
Luke, Kevin, Ben, John, Adam, Andy, and Debra before the start of the 24 hours of Daytona where they finished 2nd overall.
Luke: JLP, AJ, and Henn Racing.
Kevin: can't remember!
Ben: Whittington, Henn, Gunnar, Bo-Duck.
John: JLP, Henn, AJ, Shelton, and many more.
Adam: Henn, Gunnar, European DTM, Audi (current).
Andy: too many to list.
Debra: Henn, and Dolly Parton's amusement park (Dollywood manager).
<< Previous Good Old Days | More Good Old Days >>