"The Good Old Days"
INDY 1980
Photograph 33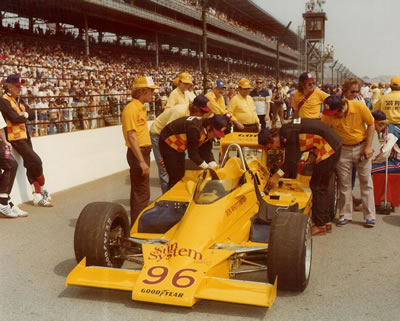 In the old days, ala 1980, you had to change spark plugs after starting a cold engine to the plugs that run the engine (hot vs cold plug). They gave you about three minutes to change the plugs. This is on the starting grid, which is the front straight. Andy, on the right, is doing one bank, and I'm doing the other. Keep in mind, this was our first year at the speedway, we're Porsche mechanics, changing the plugs in a Cosworth with about 200,000 people watching. To say the least...it was a little un-nerving.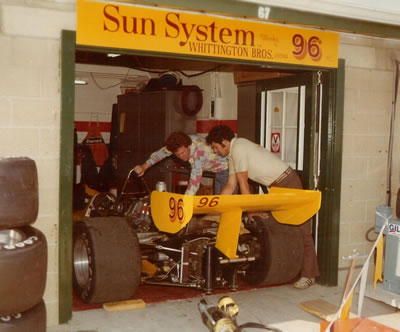 This is just before qualifying. We have discovered that we have a major oil leak. Team owner, Don Whittington, is putting his 2 cents in. It was actually, 12 dollars because that's what it cost to buy three boxes of kotex napkins...yes, that's right, our little Penske PC 7 1/2, was on the rag during qualifying. It finally blew up on the cool down lap, but we were in the field and out of oil.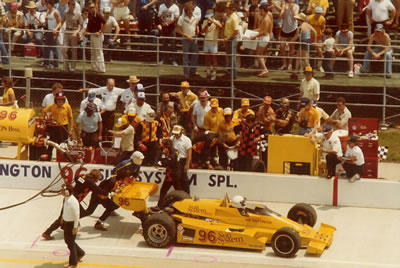 Action Jackson, actually it was Jim Weber, Andy Jensen and myself, all x-Whittington Brothers Porsche racing mechanics, pushing the car after just another one of maybe 20 pit stops. Don't remember the actual count, but we did set a record for more pit stops at the Indy 500. The problem was a broken sway bar and Whittington thought he could fix it in the many pit stops that we had. We did finish the race and that's all that counted for Andy and I.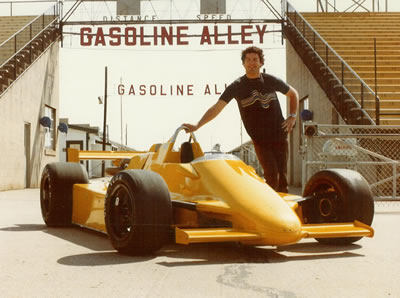 This photo was taken April 1981 of the first March to be delivered to the speedway. Andy and I put up with the speedway for eight weeks the month of May. That's what I said...eight weeks, but it seemed like an eternity. We weren't so lucky this year. Neither team car finished. Thank God these days we're a little wiser and are excited to watch it on T.V., but we do have some great memories.
Happy Indy 2005!
May it be a safe one.
5-25-05 Email from a friend regarding the above "Good Old Days":
Hi Kevin ... I thoroughly enjoyed the pictures of you and Andy along with your color commentary about participating in the 1980 Indianapolis 500. You brought back some memories. Those are classic pictures of the old Gasoline Alley garages and signage. Today is Tammy and my 9th wedding anniversary and I thought you'd be interested in knowing we were married at the Indianapolis Motor Speedway's main entrance at 16th and Georgetown. (It was her idea!) I'm going up solo on Friday to attend my 34th Indianapolis 500 since 1969. Gosh, I miss the "good old days"!
Thanks for the memories. I bring up your web site daily.
Larry

<< Previous Good Old Days | More Good Old Days >>