904-068
December 10, 2004
068 still needed body work on the bottom of the original nose.
Most of the paint was original (which is really cool). Sanding was simple, but there was a lot body work to fill in the mold imperfections.
The factory underbody had a seam that ran from left to right. The seam was where the mold separates to release the part when it is made. Body work was never done on any 904 in this area because you don't see it when the car is right side up. I see it and I fill it in because it looks so hacked. I know, you original guys think the ugly seam should stay ugly! I'll leave character in other areas.
A lot of hand sanding to get the glass filled in with a thin layer of bondo.
It seems like we've been sanding on these 904's for years (oh yea, we have!).
The wheel wells will be painted black tomorrow. The bottom will get painted later today.
Detail, detail, detail.
The first light gray primer has been applied. Remember, we use light gray when we are painting Porsche silver.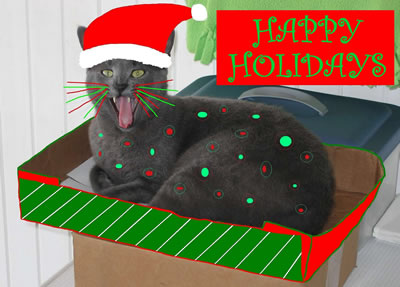 Pickles says "Don't forget me at Christmas!! Some of you think I'm the Jewish cat, but it's my cousin Buster J who's celebrating Hanukkah this week."