904-068
June 18, 2004
The tail on 068 is going to look like this for about another week.
All the work is being conducted on the inside (fabricating the hinges).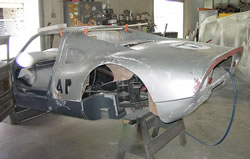 With a little luck, it will fit and go up and down next week.
Remember, this tail was also in the big crash, so lots of fixing going on.