904-090
February 1, 2008
We had one of these cable mounts from 090, but each car takes two, so we made extras. This part gets glued onto the floor with cabosil and 1/2 oz mat surround. Later we will show this being done. All the other parts are the quarter turn fasteners. The aluminum ones on the left are for the front hood, the steel ones in the middle (which will be plated) are used for the battery cover and the rear deck hatch cover (license plate door). If you can't find them, you gotta make them. These are made exactly to the specification of original. We made extra shifting shafts and now they are finished (satin black) and ready for assembly.
The two bottom ones are for 090 and 068.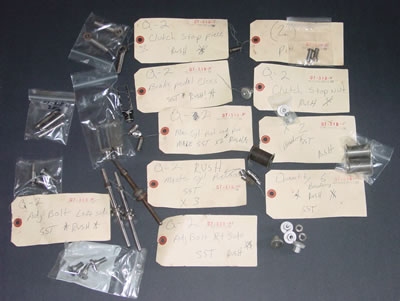 Almost have all the $10,000. parts made for the pedal assemblies.
We're really proud of these. They are exact duplicates of the 904 headlight ring. All you 904 guys need to see if you have them, cuz if you don't, I have three sets for sale. We need the other three sets because none of our cars had original rings. These are perfect.
Just received a shipment of spark plug retainers. All the twin plug engines from Porsche had these special metal with rubber end straps. They go on the valve cover stud and retain the spark plug end so vibration won't let them come off. The picture on the right was lost in space until this update. These were the photos taken when making the front engine mount. You can see we used part of an original mount and altered it with some chromoly tubing and a couple of flan blocs (rubber mounts).
Of course, this was already fit in the car with the engine.
On the bench to weld in the support tube. In a previous update, you can see the finished product.
<<< Previous Update | Next Update >>