904-090
September 16, 2005
090 from rack apart to rack installed. The white hue you see in these pictures is a little dust that has settled on the nice black finish.
More parts that have been assembled.
Both the columns apart and together.
Control arms are the same for both cars.
We utilize new bearing races, new ball stems, and new seals. This will make the car handle better than new because the plastic is a little stiffer than the original.
The flan blocs are also of sturdier rubber than original. Andy is pressing the new flan blocs into the control arms. The vise is a handy tool for this procedure.
Now he'll install a control arm in each car.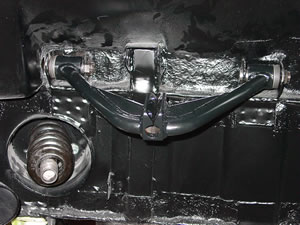 This is the condition of the bolts before we start restoring them. The parts are stripped on a wire wheel, re-filed and polished before plating.
Ready for plating on the left...and plated black oxide on the right. Stay tuned til next week's update.