Porsche Kremer 935 K3 - Crawford
May 7, 2007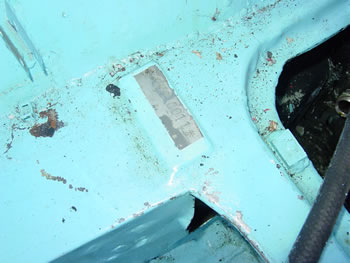 I have never seen a stranger color for the inside of any race car I have ever worked on. I guess Charlie Tuna had some taste, ehh! As you can see, if you can see it, the serial number of this car is 011. Recently, I got a phone call from some fellow in Europe who stated that a Jagermeister 935, with a serial number 011, was for sale. All I know is I am restoring the first, the original, the only 011 that is correct. This car has a perfect paper lineage from owner to owner...no excuses, no stories. I guess that ends the question of which one is real. Oh yea, this car has never been re-tubbed either...crashed a few times, but repaired, not replaced.
I might as well tell you now...it ain't going back blue.
These are just a bunch of detailed shots before the tub is steam cleaned.
It's steam cleaned because, at this point, if it is sand blasted, it is very difficult to see the layers of paint.
I always like to take the paint off in a way that I can see what each layer of paint reveals.
When the paint is removed, you see all kinds of cracks, especially on 935's.
I will use these pictures for construction methods. Kremer built most of the K-3's the same.
When the cars got in private hands, or different teams, things changed in a hurry.
These are pictures of the worn out parts that came with the car.
Needless to say, everything you see in the pictures will be restored, or in some cases, replaced.
This picture shows the different glues that held the carpet on the dash. The picture on the right shows the oil tubes coming out of the front trunk on their way to the engine bay.
Steam cleaning has now been performed and you can see the original satin black that Kremer sprayed on the tubs when the cars were built.
The original car came in a slate gray primer. Under the dash, there wasn't much sanding going on before the black was painted because the steam cleaner blew all the blue paint and black paint right to the primer.
The picture on the right shows the serial number where the production number would normally be on the dash. On the 935, the production number matches the serial number.
More paint removed and you can see the slate gray primer on the top of the dash. It's hard to make heads or tails out of the mess you see on the right.
Look closely, and you can see Jagermeister orange. This car was Jagermeister sponsored in its early days in Europe. When the paint was removed for the car to be painted white, luckily, they left traces of orange all over the place.