1973 Porsche RSR (12/21/00)
The 1973 Sebring 12 Hour Race
Gunnar Racing would like to thank Sebring's Ken Breslauer for his kind assistance in production of this event summary. The photo and much of the text below are from Ken's superb reference, Sebring - The Official History of America's Great Sports Car Race.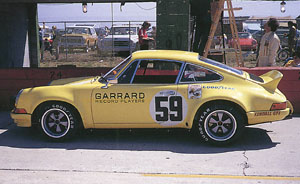 The '73 Sebring-winning Porsche Carrera RSR, subject of our current restoration project.
1973 was a landmark year in Sebring's long history. For two decades the 12 Hours had been promoted by Alec and Mary Ulmann and sanctioned by the FIA as an international event. Under their stewardship professional international sports car competition was brought to the United States, and Sebring earned legendary status.
In 1972, however, that all ended. The big international factory prototype teams made their last tour of the famous airport circuit, which had not been brought up to FIA safety standards and was thus dropped from the 1973 FIA calendar. Ferrari, who won the '72 race, would not make another official appearance for 23 years. The Ulmanns left Sebring a few days after the '72 race, and many declared the event officially dead.
For 1973, however, an upstart group known as IMSA added Sebring to its Camel GT series, and the race lived on, though radically different in appearance. The entire event was more informal, but no less competitive than previous years. "I wish them all the luck, but Sebring will never be Sebring again," said Ulmann. In retrospect,the 1973 race was one of the finest gatherings of GT production race cars ever in North America. Entries totaled the second largest ever at Sebring.
Which brings us to our project car. Peter Gregg and Hurley Haywood, winners at Daytona's revived 24-hour race in February, came to Sebring in a brand-new Porsche Carrera RSR that was delivered to Dr. Dave Helmick the week before the race. Another Carrera with Milt Minter and Mike Keyser driving also looked to be a contender. A huge field of Chevrolet Corvettes and Camaros, Ford Mustangs and Porsche 911's was supplemented by (among many others) a BMW 2002, an AMC Gremlin, an MGB, a Ford Escort, two Chevy Nova's and a Dodge Colt. A Volvo 122S, two Ford Pinto's and an Austin America failed to qualify.
The early stages of the race featured a battle between the DeLorenzo/Durst Corvette and another Corvette driven by Jerry Thompson and Dave Heinz. The pace proved too much for the American muscle cars, however, and the Gregg/Haywood Porsche took the lead on lap 86.
Fighting off a challenge from the Keyser/Minter Porsche late in the race, Gregg, Haywood and Helmick drove to a one-lap victory. Following the second place Minter/Keyser Porsche was the Ron Grable/John Greenwood/Mike Brockman Corvette and another Porsche Carrera driven by Elliot Forbes-Robinson and Gray Egerton. The winning team averaged 97.854 mph and earned a modest $8,150 in prize money. Of the 72 starters, 41 cars finished the race.
There was no race the next year, 1974, due to the OPEC oil embargo and resulting fuel crisis. Nevertheless, on the third weekend of March '74, about 2,000 race fans showed up anyway. The Sebring tradition simply would not die.