904-067
August 15, 2003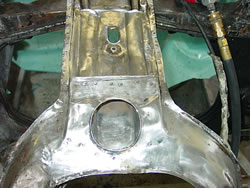 Here we've prepared all the steel members for bodywork and primer.
The metal is sprayed black (rust inhibitor) before the second panel is installed.
The center structure is painted black before it's welded in.
Mark welds in the panel (butt welded at each end).
This is the right side of the car, which is the side that was hit (Sebring).
Old panels are removed and new panels are added.
While Mark is doing the fab work, I've ground the floor to original gel coat. I am now repairing all the
boo boos!
A new edge on the left, around the engine bay. The right picture is the mangled front-left pickup point.
This area will be cut out, re-jigged, and replaced. Ryan holds hardware, while Andy undoes the top side hardware.
Mark is cutting off the pickup point and will repair all the damaged area.
I've now skinned the floor with a thin layer of filler. This is the part that was removed. Some of the next pictures are blurry because Mark is a better fabricator than a photographer. HA HA!
Repair jobs in the 60's weren't real sweet.
The plate on the opposite pickup point will be removed.
This is the hole and this is the fix.
Luckily, this chassis has no inner rail rust!
First panel welded in.
Rebuilt pickup point is jigged and now welded in.
Sweet! Small repair work continues on the rear section.
Next, we will metal prep all the steel.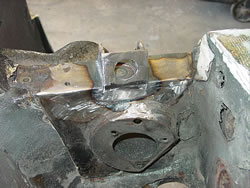 This area in the front end will be cleaned, re-glassed (body to chassis), and painted.