906-127
May 6, 2005
Now, the seat gets glassed to the seat rails. It looks and seems so easy, but it ain't. The seat has to be positioned in the frame so it will actually slide between the two mounts, which is almost a zero tolerance fit, in most cases.
Andy has done a superb job gluing the seat to the frame. You can see on the front and the back, there is a mat patch that secures the seat. The blue and green tape protects the satin black paint. After the seat is sanded, it is primed in urethane primer. The seat will be upholstered and then hand painted gray.
Andy has restored the horn and is testing it to make sure it beeps.
Before the headers are installed, we apply a layer of heat proof material. This keeps the fiberglass from burning. In the old days, this material wasn't used and after awhile, guess what happened?
Andy is running the oil breather lines from the oil tank to the engine. The oil filter housing (grenade filter) is installed and the tach drive has also been installed. It's easier to do this after the engine is in place.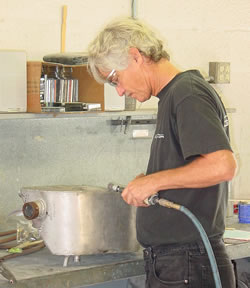 Andy is preparing the oil tank for installation, checking welds, weld fittings, mounts, etc. The tank will be hand polished (not machine because of the shine).