906-127
July 1, 2005
Two days and counting. Before the tail gets final paint, the rear window has to be fit.
It's a series of 1/8th inch cuts, but the cuts are done with a grinder not a saw.
Tape is what we use to mark the cut. Ink marker rubs off or never rubs off. The vertical piece of tape is the index for centering the window.
The green tape in the left photo is the centering index for the top. Here, 1/2 inch has to be removed for the first fit...there will be many.
1/8th inch at a time gets you close enough to drill one cleko hole, which will establish the first exact location. Then, the final grinding can take place for the final fit.
Now that the clekos are all drilled, the window will be removed. The tail will be painted this weekend.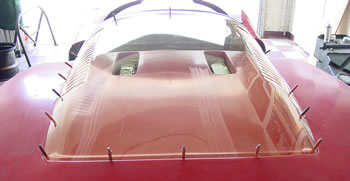 One interesting note...we fired the engine up...sweet!