906-151
June 25, 2003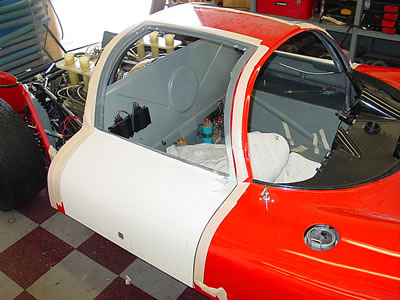 The door latches have now been reinstalled.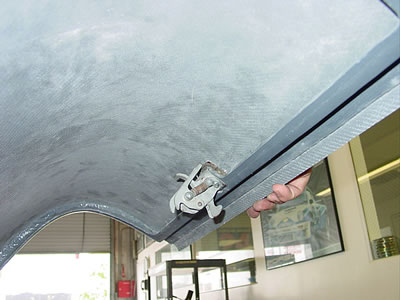 This is the factory latch and when adjusted properly works efficiently. Most of the time, these latches are not adjusted properly and the doors could fly open and off. The latch you see in this picture is a factory update, whereas the door actually opens with front mounted hinges so the door cannot fly off.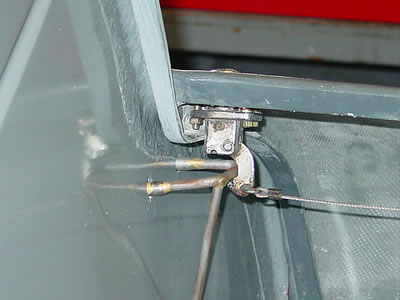 The latch used on the drivers door is a 1961 VW deck lid latch. This part was used on 910, 907, 908, 917, and with a small alteration the mighty 962. The alteration was a second hook welded on the bottom and this latch included the locking mechanism. When you bought a new 962, you got two keys, the Porsche key for the ignition and the 1960's type VW key for the door. Here is another story: The ignition key that I used for the 966 prototype was a door key from a 962. Of course it looked like a key from a VW. When people ask me why the ignition key is VW, I say it's not, it's Porsche!@#$%*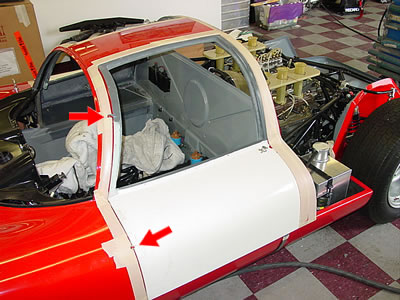 The arrows point to the hinges on the leading edge of the door. This is the same design used on both doors of the 910 (they don't blow off this way).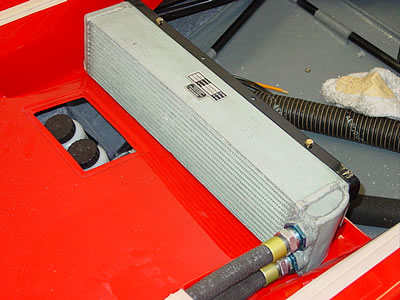 The oil cooler is now mounted. There was the Hoover Dam and then there was the cooler that looked this good after a good cleaning. Remember 906 owners, this is bigger than your cooler because these long tails had this special option.

This is the screen that will be installed in front of the cooler.