The 914 Spyder is progressing nicely, although the plans for having the car done for the HSR race at Daytona have been scrapped. It is believed that the car owner, who also will be driving the 917 Spyder, the 966 Spyder, and have the ex-Champion GT1 car there, should not be jumping from cars such as those, into a car such as this. The car will make its' debut at the HSR race in February, in West Palm Beach.
Work hasn't stopped, it's just not moving at the same pace as it was before. The motor and gearbox are in the car, and all of the suspension and brakes have been installed. The final steps, involving the wiring and gauges, should be completed shortly.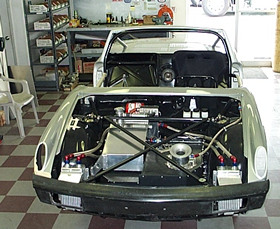 Here is a picture showing the front trunk area. As you can see, most of the plumbing for oil, and fuel is complete.