Lola B2K-40
August 20, 2003
The rest of these pictures are final assembly and paintwork.
Grand-Am instituted the foreword roll bars. We thought it was a good idea.
The rear tail section is ready for two layers of carbon.
The bars are getting paint.
Jack applies two layers of carbon fiber to the tail.
Martin is trimming the nose for the roll bars.
The foam is now being sanded from the inside.
Andy and I are moving the inner fender wells to make clearance for the bigger tires.
The fender had to be moved a half inch.
Jack is giving the inside of the tail a layer of carbon to add a little strength around the innercooler opening.
The fender extensions have been added, which match the top fender extension on the tail
(wider tires here too).
Andy is finishing the carbon work, matching the tail to the side pod. The blue parts are growing.
The gray man is getting the tail ready for blue primer, while Jack makes the rear air exits perfect.
Going back together with fresh Gulf blue.
Wayne has cut a deal with a Gulf gas station to paint the car in Gulf colors.
We're glad he did because this is the coolest looking B2K-40 ever, (sorry Mike)!!!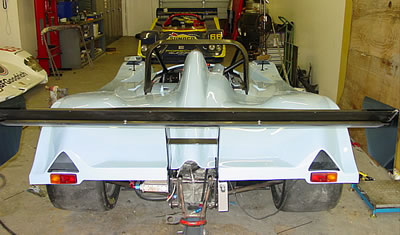 The rear view.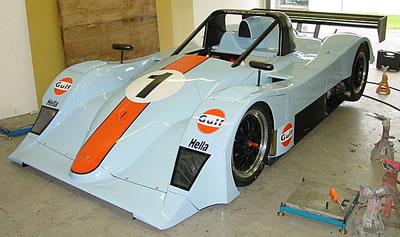 We still have more stickers to put on the car, but you'll have to wait to see it finished. Sorry!