RATT RSR
October 1, 2003
The front pick up from the oil pump on the gearbox, had to be changed because of a clearance problem.
The fuel pump pickups have been welded onto the service plate, which bolts to the top of the fuel cell. Rear shocks have arrived from Bilstein and are now installed.
We opted for the 14" rubber, so we had to make custom rear fenders. You saw me making the other side from the existing fender. I used the foam method for the right fender because we were able to move the car into the body shop where I could make a ton of foam dust. This could not be done in the fabricating shop. In these two pictures, I used 1/2" plywood as a perfect spacer for the edge of the wheel arch, then I put several blocks of foam to form the radius. I held these in place with body filler glued to the plywood.
Then, I used a sure form to shape the fender and detail sanded with 36 grit paper.
The tape is the release, the black dots are where the edge will be, and I am smearing cabosil
to fill in the voids in the foam.
After the cabosil is smeared, I apply one 3/4ounce mat, one 1-1/2 ounce mat,
and one 10 ounce "S"-weave cloth.
I use black pigment in the resin because the chips on the inside from rocks
and tire rubber will be harder to see.
On the edge against the body, I add one extra layer of mat.
This is the fun part. "Hell, it's all fun!"
After it's cured, I block sand the high spots with 36 grit and apply a thin layer of body filler.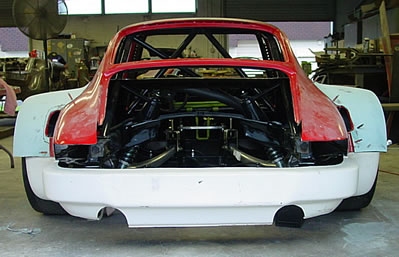 Next, I have to widen the bumper because all RATT's have fat asses.
To do this, I seam it in each radius to extend the 2 inches that I need.
Now that the rear bumper is strong, I put the 1/2" edge around the fender radius to match the bumper radius. These parts will go into primer tomorrow, the fenders will be glued to the body shell and we'll try to paint this weekend. In the morning shift, I will be building the 3.4 liter engine, which we will install the end of next week. Martin is fabricating fuel pump brackets, brake reservoir brackets, and all the final assembly goodies.
<< Previous Update | Next Update >>