RATT RSR
November 11, 2003
It came to our attention that the mounting perches that raised the transmission were not structurally fit (would probably move under heavy turns or breaking). In the next pictures, we show a cross member that we designed to strengthened the area.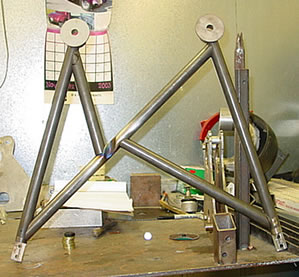 The cross bar has a funny shape to it because it has to circumnavigate the slave cylinder for the clutch.
Andy is trimming the inside of the rear bumper which just got a layer of 10oz glass.