1973 Porsche RSR (Day 14)
Last time we saw the bottom of the Sebring RSR get its coat of paint, and now the interior has had the same treatment (two photos below), after considerable preparation of the sort we showed being done to the car's bottom.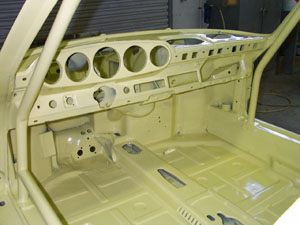 These aren't the final coats of paint though. The purpose here is to make everything one color again, so we can more easily see where further work need to be done. Inside and out, the whole car will get further touch-up repairs and final sanding till the whole thing looks like it did when it was first built (remember Sebring 1973 was this car's first race). Only then will the final coat of paint be applied, followed by reassembly of all those parts we've been showing you over the past two weeks.