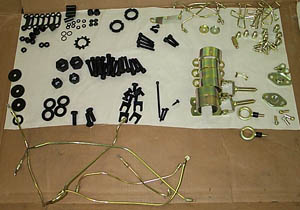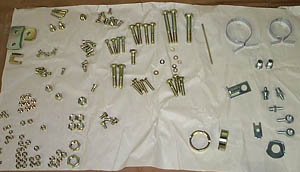 Above two photos show a whole batch of parts that were sent off for zinc plating and are now back, good as new. The plated parts get one of three different finishes, known as black, yellow and clear. The zinc plating resists corrosion, in addition to giving the parts a like-new look.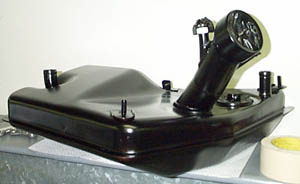 The oil tank after masking and painting.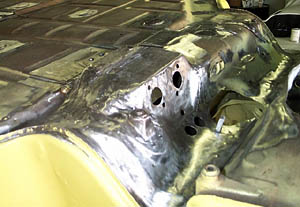 On the rotisserie, the underside of the RSR continues to receive attention. Here some previous (and rather crude) modifications to the foot pedal box have been put right (you're looking at the underside of the cockpit footwell. The pedal assembly mounts in the square depression you're looking at the underside of, and the two forward-facing holes are where the master cylinders connect.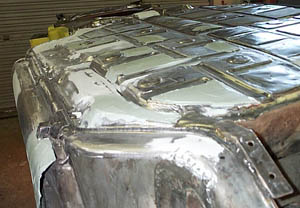 Years of carelessly-placed floor jacks has caused several areas of the car's bottom to be caved-in, and those areas are all pounded out one at a time, and remaining imperfections filled.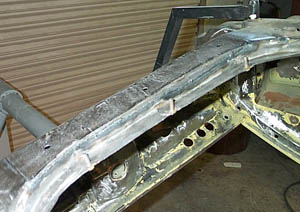 Some damaged areas are easier to repair by cutting them away, as this section of the front crossmember has been, then pounding the metal back into proper shape and welding the repaired piece back in place (see next).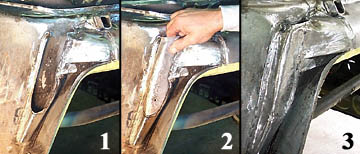 Here is an example of the technique mentioned above. In this case, part of the lower-rear of the left door jamb, near the jacking point for the left-rear, was so badly bashed in it had to be cut out (Pic1) to be repaired. The cut section, seen being held in place in Pic 2, was pounded back to its correct shape after being cut off. The repaired part is welded back in place and ground down (Pic3), and will look good as new after primer and paint.
The front strut housings being reassembled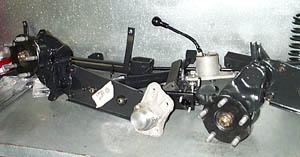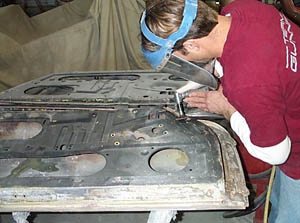 The doors, which we saw being chemically stripped a few days ago, are getting closer attention, including bead-blasting. As with the chassis we've seen already, imperfections in the doors will be corrected, filled and primed.