The bodywork inside the fuel cell area is nearly complete. The oil cooler shield is in place, and all imperfections are being filled and sanded. Next the whole car goes on the rotisserie so that work on the lower surfaces can begin.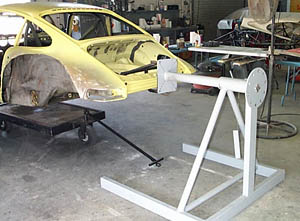 This is the rotisserie, or the rear half anyway. There's another similar stand attached to the front of the chassis, and once the chassis is fixed on the rotisserie the car can be turned upside down quite easily (or at any other desired angle) and locked in place so that work can be done far more easily than crawling underneath!
Here Rene is finishing the underside of the oil cooler shield with the car spun nearly upside-down on the rotisserie.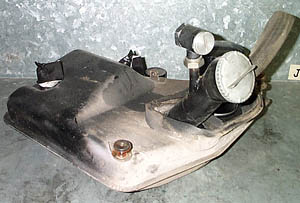 The RSR's oil tank, as removed from the car.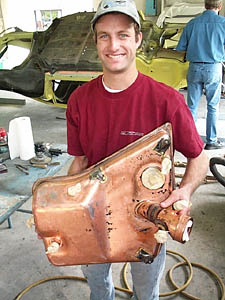 Looking quite a lot better (the tank, that is...). Bill is stripping off all the old paint and mung, revealing the copper-like plated metal of the oil tank. It'll be painted once all cleanup is completed.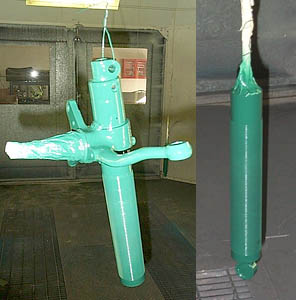 The front strut housings and rear shocks with fresh green paint.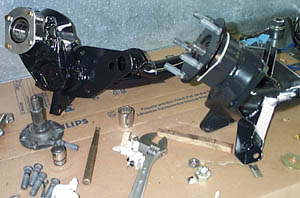 Andy has been reassembling the rear control arms, including all new bearings. This car had been modified to have centerlock hubs, but here they've been changed back to the original five-stud hubs the car raced with at Sebring.