Moroso Training Day
July 15, 2003
Mark shared the track with Peter Argetsinger so we brought some of Mark's racing Porsches. The "E" ticket of the day was a ride in Mark and Stevie's 966.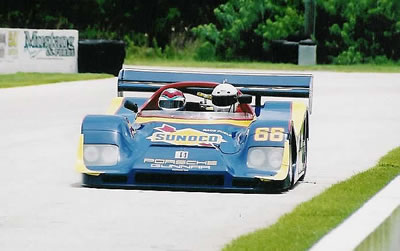 The first "E" ticket was given to Mark's buddy, Kevin Dockerman. It was Kevin's first day on a race track. Mark gave Kevin driving instruction and before you knew it, he was driving Mark's hopped up 964, Then Mark let Kevin drive his '97 RSR. Much to my amazement, he actually looked like a seasoned driver by day's end!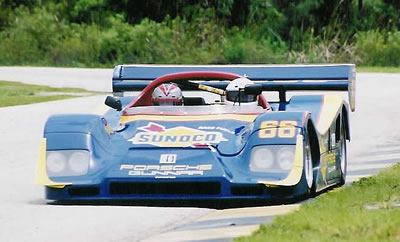 In this picture, Peter is giving his student, Andrea (who's 19 years old), the second "E" ticket of the day. You'll see Andrea driving her yellow Ferrari behind Lance in the G-99.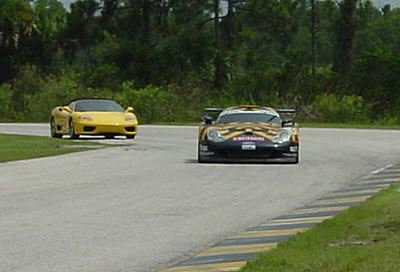 Andrea thought it was keen to get Peter (great instructor) to teach her at Moroso for a day. Car control is everything when you're driving one of these yellow things.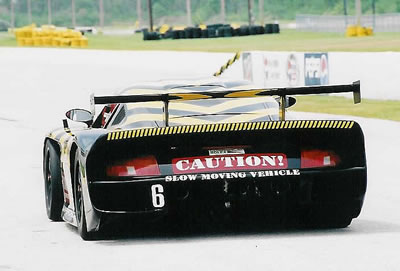 Mark is taking some laps in the G-99. He will be driving it with Stephen in the Daytona Finale at the end of the Grand-Am season.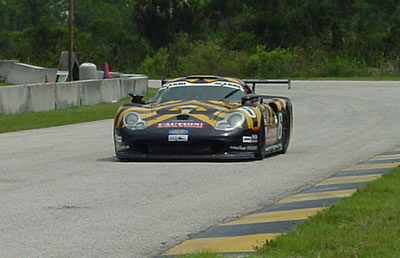 Here is Mark at speed coming out of nine. I just noticed that the car matches the curbing!!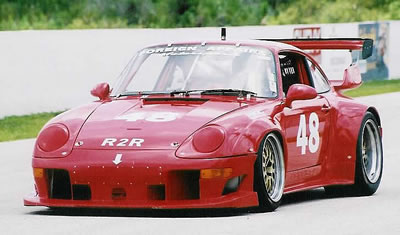 Oddly enough, Lance bought this car at the end of the day, even after Kevin drove the wheels off of it. I mean, he wouldn't get out! Driving race cars is like dope, sex, and rock-and-roll, sometimes you just can't get enough. Right Jerry?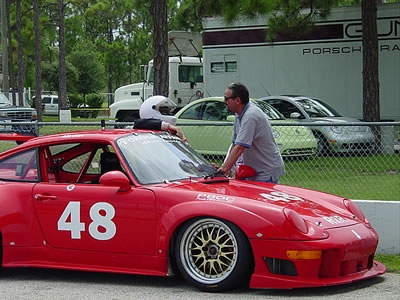 "Hey Kevin, are we having fun yet?", says Kevin to Kevin.
Mark says, "I'm trying to sell this thing to Lance today, so we need to give him some time in the car too, OK!"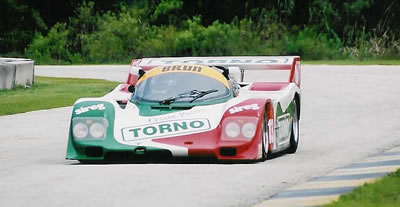 So now Mark wants to drive his bad boy, 962-107.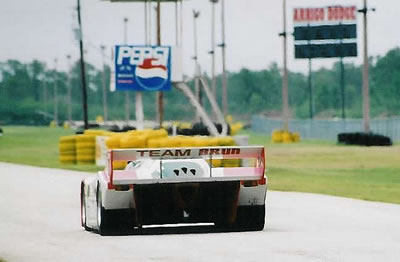 Coming and going.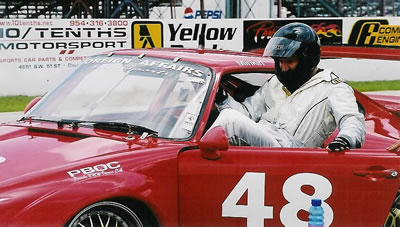 We finally drug Kevin out and now it's Lance's turn again.
So here's the deal: You can drive the car, but don't hurt it. If you like it and are interested in buying it, we'll let you drive it again. If you say you're going to buy it you can drive it as hard as you like! Sound good?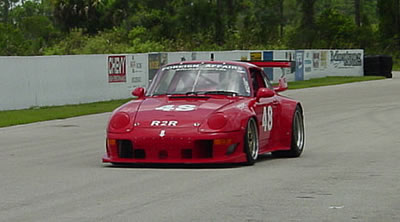 This is the second time Lance has driven today. The first time Lance did what we asked him to do, he took it easy. The second time, he woke the car up and started driving aggressively. You can
tell this is not Lance's first time on a race track.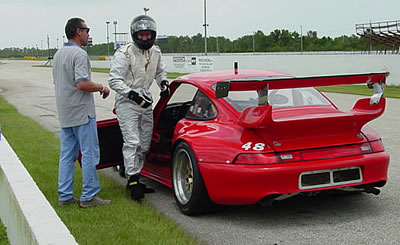 "Well, I think I'll take it!", Lance said. Kevin D. said, "I don't need to buy a Porsche racecar because I can drive Mark or Jerry's cars anytime, I hope I hope I hope!"