Beck 550 Replicars
December 10, 2003
Back on the Becks. Andy is preparing the torsion bar seals.
Jack is packing wheel bearings and Martin is installing the brake calipers.
The boys are sitting around the campfire (men's version of a women's sewing circle).
The picture on the right shows the left front suspension.
Brake discs and calipers are going on.
Disc brake master cylinder which replaces the original drum brake style.
Andy is still getting the bars ready and the term: spaghetti headers is what you see in the picture on the right.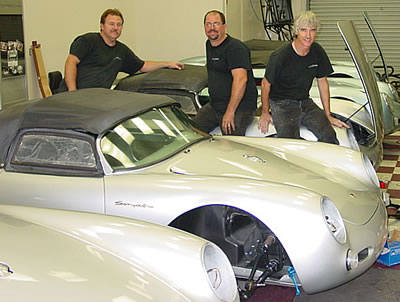 I told Joe I would have his and Stevie's 550 done by Christmas. I told him I had three of my best guys on 'em. Oh yea, I didn't tell him which Christmas!