"The Good Old Days"
Daytona 24 - 1983
Photograph 37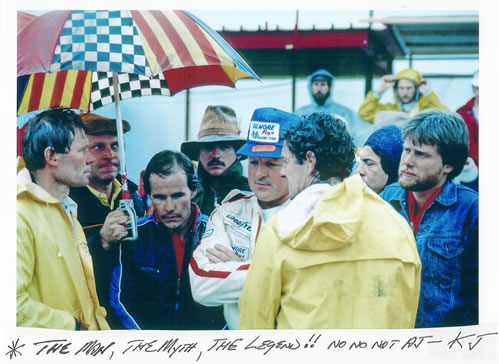 Our friends at Klub Sport, Phil Bagley and John Singer (photographer), were both present at this great race. Of course it was great for Gunnar Racing because we won from the pole. They don't call him "Brilliant Bob Wolleck" for nothing. Preston Henn let us purchase this car from Andial because I told him if he let me buy a good car, we'd start winning races...Bingo! We got Bob Wolleck and then A.J. Foyt. This was the driver combination including Preston himself, who did an hour in the car, and Claude Ballot-Lena, who did a fantastic job, but he couldn't keep the pace with Wolleck and Foyt. These guys were in another league. Foyt had never driven a German car in his life, even though this car was kind of built in Santa Ana, CA. Anyway...this picture doesn't show a happy face in the group. From left to right its Dieter Inzenhofer (Andial), Wolfgang Huffsted (Bosch), Ben Heaton (Gunnar), hat dude -?, A.J. Foyt, Kevin (me), Stanley (Jim Bell's best friend), and Tom Sutterfield (Gunnar). The reason the moment looks so bleak is because we had a giant lead in the race and it's rained so hard that they've red flagged it. I think that this was only the second time the race was red flagged. The first time was in the early 70's when the track fuel was contaminated with water and all the cars started having problems. They stopped the race to let the competitors sort the fuel problem while the track changed tanks. The other time was our race because it rained so hard that you couldn't see past the windshield wipers. We're wondering how long this will last, we're wondering how tough it will be on a semi-worn out engine to restart it and run it hard again. It was pretty cold out and it seemed to me it a few hours into sunup, so we had a lot of race to go!!
Or, we had just found out that our room at the Holiday Express was booked for the night.
We ended up winning with a giant lead. These frowns turned to great smiles a few hours after this picture was taken by John.
I didn't know John at the time, but I thank Phil and John for giving us this picture because it's a good memory for all of us.
Happy 2007 Daytona 24!