904-068
September 16, 2005
Everything gets looked at during one of these rebuilds. All the little doodads in the steering rack are checked for cracks and measured for tolerance before re-assembly.
This is the steering coupler before and after installation.
This is the condition of the bolts before we start restoring them. The parts are stripped on a wire wheel, re-filed and polished before plating.
Ready for plating on the left...and plated black oxide on the right.
Steering columns for both 904's on the left. Steering rack assembled and lower control arm ready for installation on the right. These parts will be installed next week. Look through 904-090 because some of those pictures are are applied to both cars.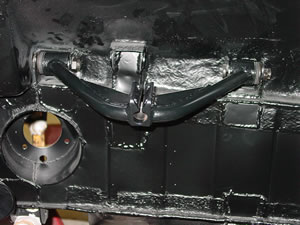 The first of 4 control arms are installed for the front suspension.